Hunter Morris is having a fine year in his first full season with the Huntsville Stars, the Double-A affiliate of the Milwaukee Brewers.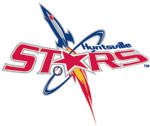 The 23-year-old first baseman ranks among the Southern League leaders in hits, RBIs and OPS. He was a fourth-round draft choice in 2010 out of Auburn.
Baseball America rates him as the best power hitter in the Brewers' farm system and projects him to be Milwaukee's starting first baseman by 2015.
But he's not just any other player to baseball fans in Alabama's fourth-largest city.
Morris is the first Huntsville native to play for the Stars, which is why the team wanted to salute him with a bobblehead giveaway.
Stars spokeswoman Jill Cacic said Morris brought his son, Tripp, along with him for the bobblehead photo shoot. Tripp was about a year old at the time, and he got a bit fussy after a while. So Hunter picked up the child to soothe him.
"Then we had that ah-ha moment," Cacic said. "We realized he's much more than just a baseball player. He's a husband and a father."
So why not make Tripp part of the bobblehead, too? And why not give the doll away to fans on Father's Day?
Indeed, the Stars will give away the bobblehead of Hunter and Tripp to the first 1,500 fans through the turnstiles for Sunday afternoon's game against the Montgomery Biscuits at Joe Davis Stadium.
Cacic said the team believes the father-son bobblehead is the first of its kind, and a nice detail to the doll is that the bobbling head belongs to Tripp -- not Hunter.
Meanwhile, we advise Hunter to get one doll for Tripp and another to save as a keepsake. Because if Tripp is like most 1-year-olds, that poor bobblehead will be in a dozen pieces within a week.