The Steelers are celebrating their 80th anniversary in 2012, and it's been known for some time that they'll mark the occasion with a new throwback uniform, which they'll wear for a couple of games this fall. The throwback design, which will be unveiled Tuesday at 4:30 p.m. ET, has been a hot topic of speculation in Pittsburgh and around the uni-verse. Unless you work for the Steelers, the NFL or Nike, however, you probably don't know what it looks like.
But I do.
Similarly, it's well-known that the Nets will get a uniform makeover when they move to Brooklyn next season, and there have been assorted mockups and concepts floating around -- all of them bogus. Unless you work for Nets, the NBA or adidas, you probably don't know what the real design will look like.
But I do.
I wish I could show you. I'm dying to show you. But I can't. In one case, a league official showed me the design on the condition that I not divulge or describe it; in the other case, a fan with inside connections swore me to secrecy. In both cases, my lips are sealed.
This is what life is like as a uniform columnist. Confidential uni-related info comes my way pretty frequently -- sometimes because I seek it out, and sometimes because it seeks me out. The circumstances vary, but the upshot is always the same: I find myself sitting on some really fun information but am unable to share it, which is frustrating for someone who works in the information business.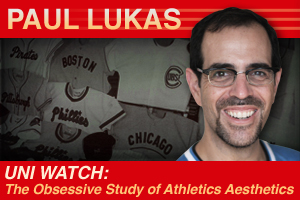 Sometimes my status as the only journalist covering the uniform beat on a full-time basis can actually work against me. Let's say, for example, the Nets' new uni gets leaked on a message board or a blog. At that point, other people will start talking about it, but I'll still be bound by my promise not to write about the design until the official unveiling. After a day or two, I may decide that I'm free to weigh in (once confidential information is no longer confidential, the promise is essentially moot), but by that point I'm stuck behind the story instead of being out in front of it. Meanwhile, someone else has gotten credit for breaking a major scoop on my beat. Grrrrr.
Sometimes the scoop comes from the world of video games. Earlier this month, for example, EA Sports released a "Madden NFL 13" screen shot showing the Bears wearing orange pants. The Bears had no comment on it, but it's a safe bet that EA Sports wouldn't have put the screen shot into circulation without approval from the team and the NFL. So now everyone knows that the Bears will have an alternate set of pants this fall, even though they haven't been officially unveiled. (In this case, I didn't know about the Bears' pants beforehand. If I had known, and if I'd promised not to say anything until the unveiling, I would've been really annoyed by the "Madden" leak.)
Teams and leagues tend to be super-secretive about this kind of stuff. They plan their marketing efforts according to very regimented schedules and don't like it when things start spinning out of their control. Really, though, there's no such thing as a "bad" or "wrong" time to unveil a new uniform or logo. If you challenged sports marketers to come up with an example of a prematurely leaked design that harmed their carefully laid plans, I bet not a single one of them could do so. Heck, after the Sabres' now-infamous "Buffaslug" logo was leaked about two months early in 2006, managing partner Larry Quinn told reporters, "In retrospect, we couldn't have done it any better. [The leaks have] been a great guerrilla marketing campaign."
So if the Nets' new uni or the Steelers' new throwback does happen to leak early, that won't be the end of the world for anyone involved. But I can assure you that neither of those leaks will come from me. I gave my word, and my word is good -- no matter how frustrating that is.