As you may have heard, new Hornets owner Tom Benson wants to change the team's name to something more New Orleans-y. Remember, the Hornets were originally based in Charlotte, so the team's name has no Nola connection.
The obvious thing would be to bring the Jazz name back to New Orleans, give the Hornets name back to Charlotte (there's already a fan group and an online petition for that), and rename the Utah franchise, which has always worn the name "Jazz" like an ill-fitting shirt.
Of course, that makes too much sense, and so the task falls to you, Fandom readers: Rename the Hornets. And while you're at it, design some new uniforms for them.
We've run these design contests before (for the NBA, the NHL, and MLB) and the results have always been (A) entertaining and (B) at least as good as what the official designs turn out to be. So fire up your digital design software -- or break out your pack of magic markers, as the case might be -- and help us turn the Hornets into a New Orleans-appropriate team.
The rules are simple:
• Your entry must include a team name, a primary team logo and home and road uniform designs. (If you like, you can also include secondary logos and alternate uniforms, but those aren't required.)
• Uniform and logo designs can be created in any digital or analog medium (Illustrator, Photoshop, crayon, whatever) and can be submitted in any standard digital format (JPG, PDF, tiff, etc.).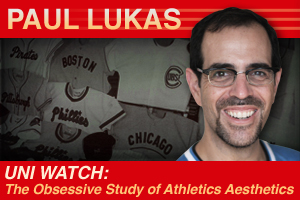 • Please include your name and email address somewhere on the image file, like this.
• Uni Watch's usual chromata non-grata policy (read: no purple designs, not now, not ever) has been suspended for this contest because purple is a big part of New Orleans culture. So feel ... free ... to submit ... purple ... designs. There, I said it.
• Email your entry here. If you have more than one concept, feel free to enter as many times as you like.
• Deadline: Friday, April 27, noon ET.
The winning entries will be showcased in a future Uni Watch column and will also be forwarded to Benson and to the NBA, where they'll no doubt receive careful consideration. OK? Get crackin'.
Paul Lukas wonders if the Hornets should just adopt their Mardi Gras uniform on a full-time basis. If you liked this column, you'll probably like his daily Uni Watch web site, plus you can follow him on Twitter and Facebook. Want to learn about his Uni Watch Membership Program, be added to his mailing list so you'll always know when a new column has been posted, or just ask him a question? Contact him here.