The Lansing Lugnuts will be turning back the clock –- and the radio dial –- during Sunday's home game against the West Michigan Whitecaps.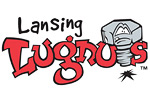 The Lugnuts, Class A affiliate of the Toronto Blue Jays, will broadcast the game as a re-creation to mark the 91st anniversary of the first baseball broadcast in history, which was on Pittsburgh station KDKA. That means Jesse Goldberg-Strassler and Keaton Gillogly, who will handle the broadcast from Cooley Stadium in Lansing, Mich., won't actually be watching the game.
Instead, in homage to the pioneers of baseball on the radio, Goldberg-Strassler and Gillogly will describe the game from written accounts. For sound effects, mini bats will be used to simulate the crack of the bat. A baseball slapped into a glove will mimic a swing and a miss, and canned crowd noise will also be on tap.
"It's a way to pay respect to all the greats of broadcasting who re-created games, going back to Ronald Reagan and Ernie Harwell," Goldberg-Strassler said.
Goldberg-Strassler and Gillogly will broadcast from an area of the press box where they can't see the game, and they will receive "bare-bones" updates through online messages –- technology permitting. During a previous re-creation, the Internet connection failed, and they resorted to good old handwritten notes.
Four years ago, also on the anniversary of the first baseball broadcast, Goldberg-Strassler re-created a game out of necessity. He called a game for the Windy City ThunderBolts of the independent Frontier League from the team's business offices because a storm in the Chicago area knocked out wireless access in the press box. It wound up being memorable, as pitcher Isaac Hess tossed the first no-hitter in franchise history.
Goldberg-Strassler said the best part of re-creating a game on the radio is being able to bring creativity and imagination to the broadcast.
"We can have fun with it. We can get colorful," Goldberg-Strassler said. "If [the message] says 'strike,' we can have the manager and the umpire get into an argument [over the call]. If it says 'foul,' it can be a home run that just pulled foul. If it's a home run, [the ball] can just make it over the fence, or it can be a towering blast."
Curious to hear how the broadcast will transpire? Tune in online at this link on Sunday at 2:05 p.m. ET.