Every February, sports artist Opie Otterstad hunkers down in a hotel room. Sometimes in it's Florida, others Arizona -- it all depends on where the reigning World Series champion trains. There Otterstad grinds for two to three weeks, 16 to 18 hours a day, aiming to get a detailed commemorative painting ready for the title-winning team by March.
"By the end of it," Otterstad says, "I feel like I've run a marathon."
But that's nothing compared to this, his current quest, as commissioned by the NCAA and the National Association of Basketball Coaches: Paint, by the end of the Final Four, all 75 champions in tournament history ... while also visiting many of the 35 tourney-winning schools to unveil said paintings.
Take this week. On Wednesday night, he unveiled his 2002 Maryland Terrapins piece. The following morning, he met with ex-coach Gary Williams to talk life and hoops. On Thursday night, Otterstad finished up his 1962 Cincinnati Bearcats painting. On Friday morning, he spoke with Playbook while heading to the Baltimore airport, ready to visit Chapel Hill for an unveiling of his work for the North Carolina Tar Heels (as seen above) at the UNC-Maryland game.
Which means ...
"It's work -- it's a lot of work -- but it's also ridiculously fun."
Said Ernie Kent, the former Oregon Ducks coach and 2011-12 NABC president: "It was a massive project to do." But: "It's been a wonderful project."
And it's not over just yet.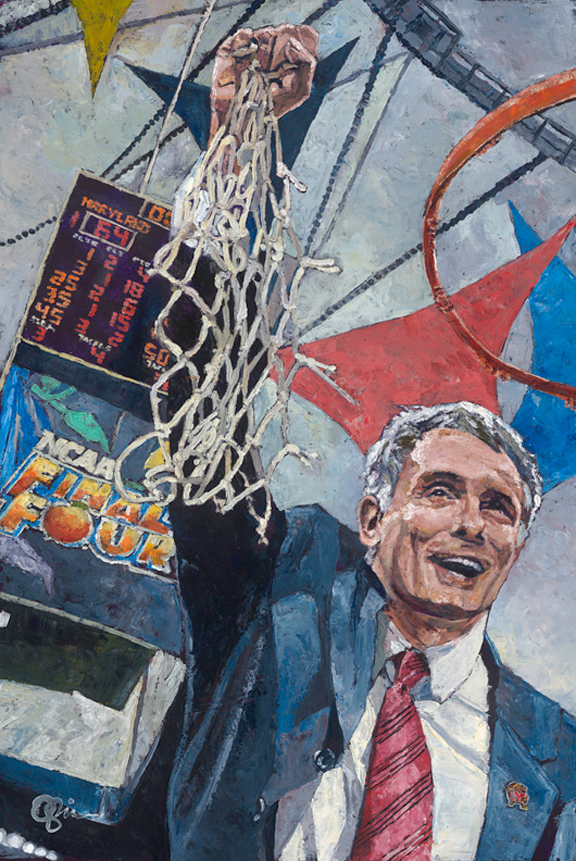 Gary Williams, Maryland Terrapins, 2002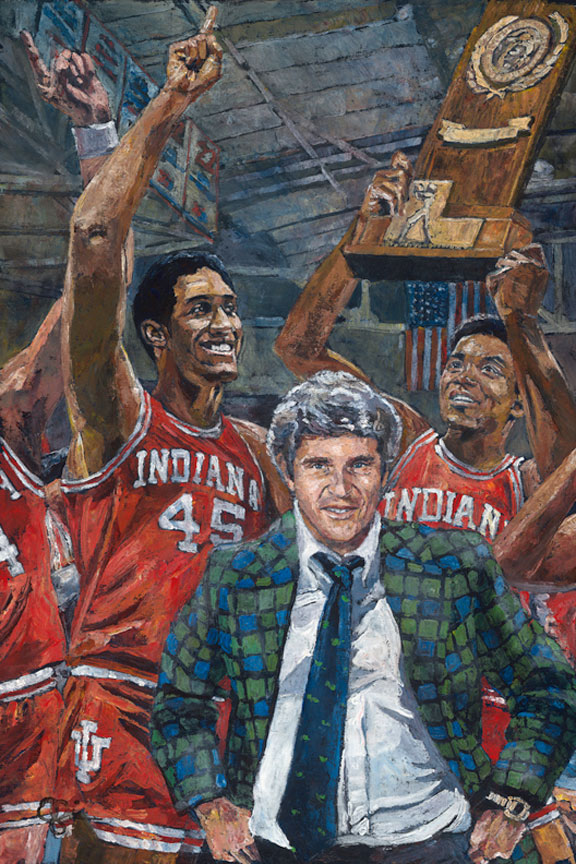 Bob Knight, Indiana Hoosiers, 1981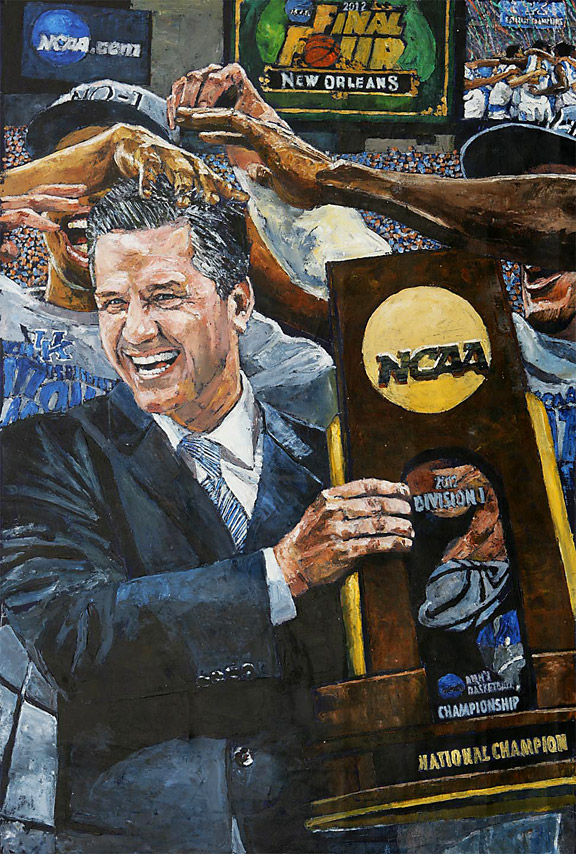 John Calipari, Kentucky Wildcats, 2012
Otterstad, a Texas native who played Division III basketball at St. Olaf College in Minnesota, says he still has about 14 paintings to complete -- a few Mike Krzyzewskis, some John Woodens, a John Thompson and others. He's also planning to attend more unveilings before the end of the month, at Villanova, UNLV and North Carolina State.
It's all a part of nearly a year of whirlwind activity, which started with the NABC's idea of commissioning paintings of all the winning coaches for the NCAA tournament's 75th anniversary.
"But I saw a lot more potential than just that," Otterstad says. "I wanted it to tell more of the story."
Including players, for one, meaning Otterstad and the NABC needed permission from each before proceeding, a sometimes arduous process. Also included: a few artist's extras -- Easter eggs, you could say -- hidden in the background, such as school logos, Final Four logos and even, in one case, a clown (Marquette coach Al McGuire decorated his office with clown images; unfortunately, that painting -- which Otterstad deems his favorite, for many reasons -- was not available for sharing).
Which leads to this point: These paintings -- each of which is auctioned off after its unveiling, along with 250 reproductions, with a portion of the proceeds going to the NABC Foundation -- are not merely painted recreations of actual photographs. They're all Otterstad's interpretations of the post-championship moments, based on stills, video and even written accounts of these momentous occasions.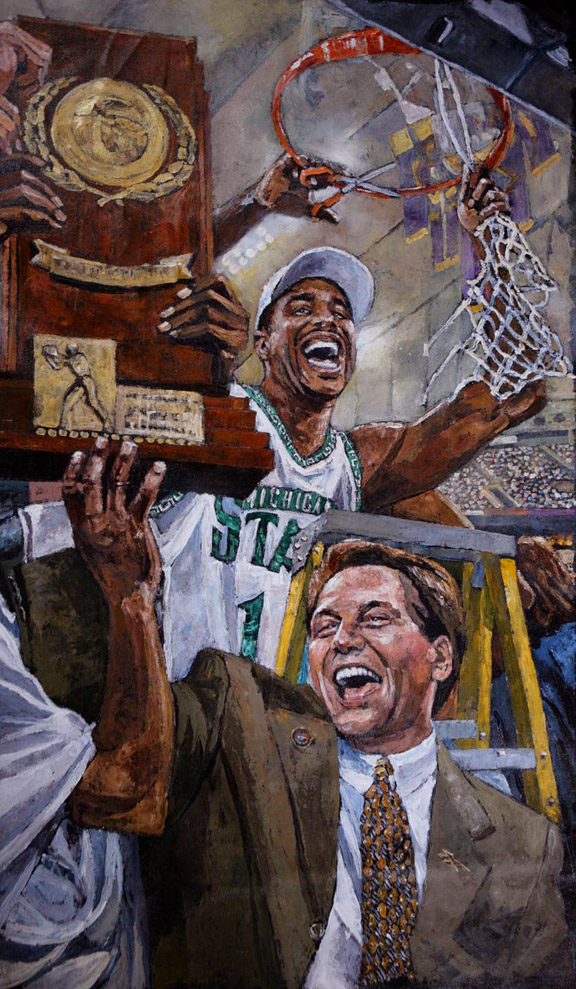 Tom Izzo, Michigan State Spartans, 2000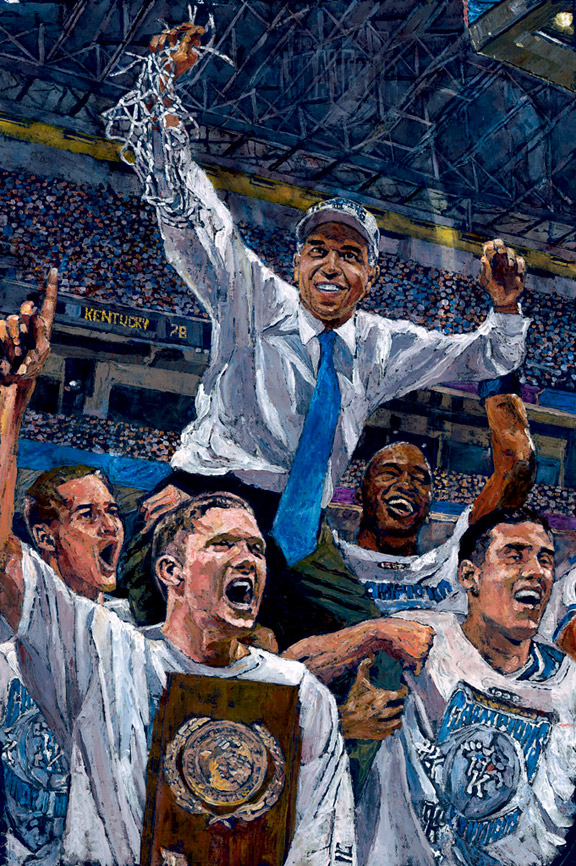 Tubby Smith, Kentucky Wildcats, 1998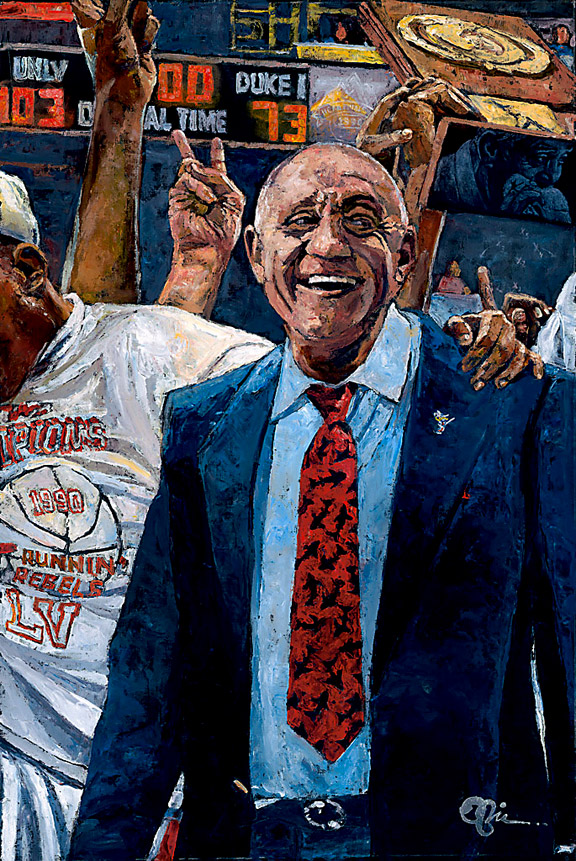 Jerry Tarkanian, UNLV Runnin' Rebels, 1990
So yes, Otterstad is creating these works from sort-of scratch, then cranking them out at a pace of about one every four days. He's also visiting the schools, interviewing the living coaches for the planned coffee-table book that will feature all of his paintings.
Why does he do it?
One reason: Atlanta.
There, during this year's Final Four, reproductions of his 74 completed paintings will be displayed on one massive 35-foot-by-20-foot canvas.
"You can imagine 74 years of history," Kent said, "and being able to see all of these at once and being able to see the story ... that's pretty powerful."
Said Otterstad: "I've never seen my art on that scale before. ... On a day where I might be wearing down, I keep that as my goal, and that's the extra pep in my step that I need.
"[Atlanta will] be my Final Four, too."
More than that, the whole thing will be a memory, not just of creating the paintings, but of seeing the excitement at each unveiling, and talking to the coaches -- hearing Coach K drop a good-natured expletive to him, for instance, or Otterstad revealing something about the 1998 game that Kentucky Wildcats coach Tubby Smith never noticed himself.
"It'll be a history of that year," Otterstad said, "and the memories associated with visiting all 35 schools and the interviews I've done."
In other words, it'll be worth having run all those marathons.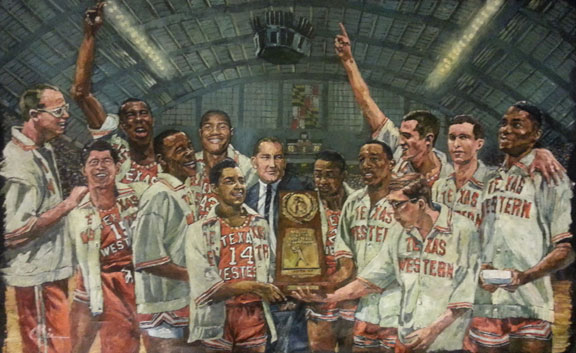 Texas Western, 1966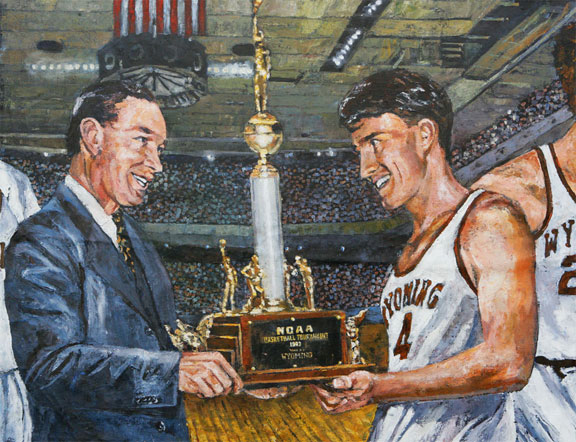 Everett Shelton, Wyoming Cowboys, 1943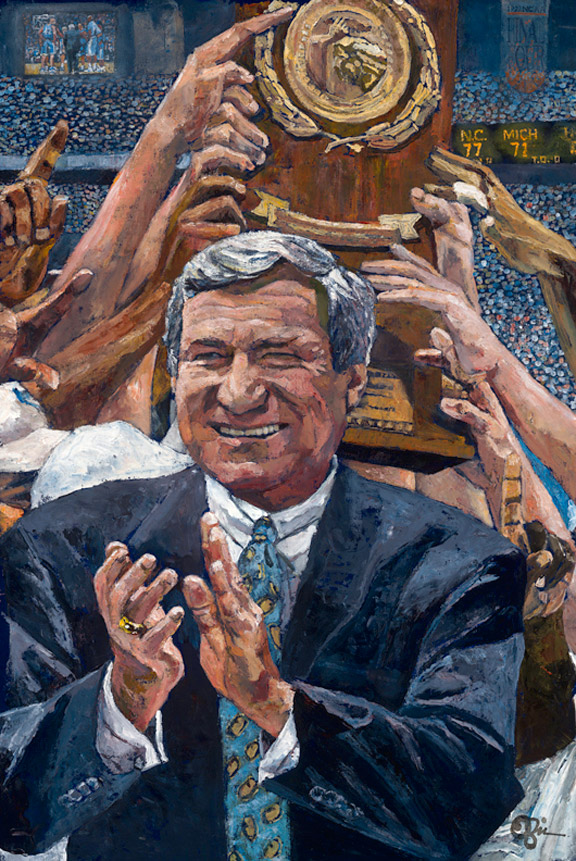 Dean Smith, North Carolina Tar Heels, 1993