The bracket. It's an essential part of sports -- something that peaks during March Madness but marks nearly every sport's playoff.
But is there a better way to view sports tournaments, especially ones that don't involve a visually pleasing 64 (or, well, 68) teams?
Two years ago Deroy Peraza and his Brooklyn-based design studio Hyperakt decided to search for one for the South Africa World Cup that year. What they created -- in design first, then later on a poster thanks to a Kickstarter campaign -- was this:
But they weren't finished. Despite Peraza's undeniable love of soccer -- a Miami native, he's a Spain and Barcelona fan -- the group decided to branch out. So last month they started bringing the radial bracket -- fashioned after the typical sport's round ball, according to Peraza, and designed for easy team identification -- to most of our major team sports:
So we can see via radial design how LeBron James won his first title with the Miami Heat ...
... or how the Los Angeles Kings climbed from No. 8 to take their first Stanley Cup ...
... and that ridiculous, unpredictable 2011 Major League Baseball postseason ...
... and, of course, the just-completed UEFA Euro 2012 (won by Peraza's Spain):
They show more than recent history, too. How about the Boston Red Sox's 2004 triumph?
Or the New York Giants' first Super Bowl win over the Patriots?
Or Michael Jordan's first title?
Or even Babe Ruth's first with the New York Yankees?
All of these can be found, for the moment, on the project's Tumblr. But soon they'll also be available for sale in poster form, a la that first World Cup radial back in 2010.
So Giants fans, if you want an unusual way to remember the most recent Super Bowl along with that 2007/2008 one, here's a sneak peek ...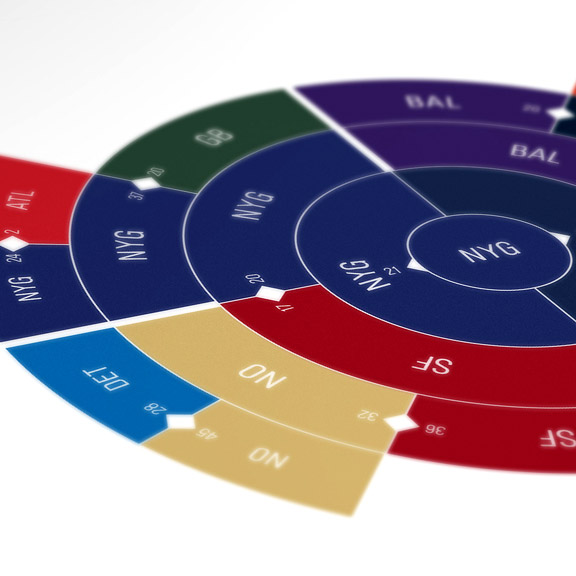 All images courtesy of Hyperakt.