MIAMI -- It's your typical post-college football story:
The quarterback tries out for the pros. But he doesn't quite make it. So he leaves sports behind and goes into commercial real estate.
Then one day his manager approaches him and asks him a question:
"Why don't you, um, go be an artist?"
So he does.
All right, so by now you know: That last bit isn't part of your normal, scripted, All-American ex-athlete tale, but it is true. It's the tale of Ryan McCann.
Once a backup quarterback at UCLA in the late 1990s and early 2000s -- a tall lefty who enjoyed a few starts and shining moments with the Bruins, before injuries and depth chart politics pushed him to transfer to Tennesseee-Chattanooga for his senior year -- McCann had a cup of Gatorade at Cincinnati Bengals camp, then ventured out into the working world.
But the Southern California native also was a longtime amateur artist, someone who spent all his post-football free time drawing and painting and creating. So when his manager told him in the middle of last decade to give it a go ...
"I was like, 'Duh, of course,'" the L.A.-based McCann said last week at Miami's Black Square Gallery, where some of his work is on display through September. "'Why am I doing something I don't enjoy when I can pursue something that I do enjoy?'
"And so that point was when I started to really pursue it full-time, and then around that time is when the blowtorch thing kind of came up."
See, that's the other thing. A fan and practitioner of modern art -- often with a humorous bent -- McCann's medium is one that virtually no one else uses: Blowtorch on wood. He calls it "pyrography." It looks like this: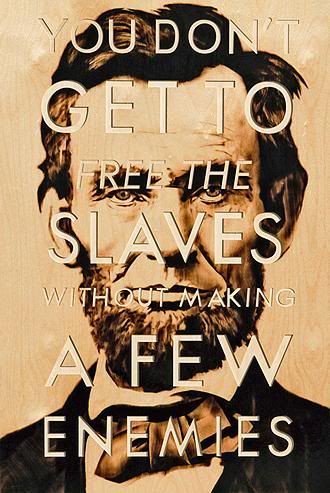 "Lincoln" (blowtorch on carved wood)
So how did this all happen -- from starting in art to playing with fire? McCann talked about all that and more in a sit-down with Playbook.
Your art obsession -- when did it begin?
"I've always been interested in art. ... Most artists say in school, instead of taking notes, they were drawing in their notebooks. And so it was that kind of case. And my parents encouraged me; my dad is an actor, my mom is involved a lot in the arts ... and so they always encouraged me to keep doing it."
How much did you do during college?
"When I was getting recruited to UCLA, I met with the head of the art department and had it worked out that I would be an art major and do all the classes. But ... I couldn't take all those art classes because practice was in the afternoon when [they were].
"Really during that time, college football was the focus. And I did some drawings, but where I sat down and [really concentrated] -- maybe like three or four times.
"As soon as football ended, it turned into, 'This is something that I always loved, let's pursue this.' Because that's what I was spending my free time doing, was art."
"Tyson vs. Tyson"
How did 'pyrography' come about, then?
"I had always been a pyromaniac as a kid -- and I think everybody's fascinated with fire. It's something that everybody just kind of trips out about. ... And so I was on this wood desk, just like a plain wood [bench] and I had this little blowtorch light for cigars. And I was just bored, so I started lighting it on fire. And then I was thinking about it and I got underneath it and I wrote my name. And then I felt bad because it was my roommate's table, so I wrote his name, too.
"And I said, 'Hey, if I find you another table, can I have this one?' And he said yeah. ... I took that one and took the legs off and then did my first piece on the other side -- it's a picture of Gandhi walking, and he's got a 9mm in his hand. ... It's really rough, there's no detail, it's really just like you took a flame and just made a circle. That was the head. But you could tell it's him. And I love that piece, because that was the inception of that idea.
"And then I said, let's see how far I could push this."
Have you seen a lot of other artists do things like this?
"I have not. I've looked, too. At first, I really wanted to keep it secret and didn't want to tell anybody, because I felt like I came onto something. But at a certain point I was like, if people are going to do it, they're going to do it. But I haven't seen anybody that's done it in a contemporary art sense like I do it."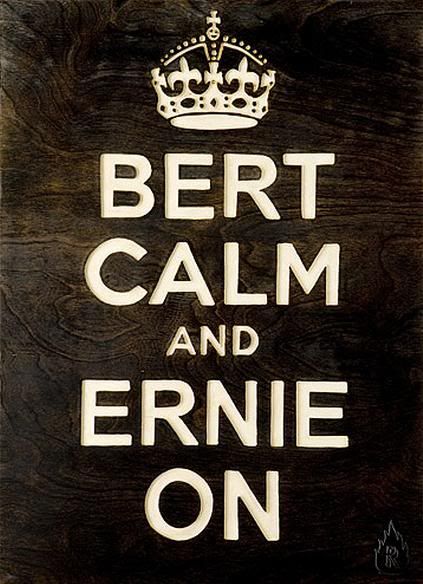 "Bert Calm" (blowtorch on carved wood)
You've done some sports pieces, including the Mike Tyson, and also John Wooden. Talk about the Wooden experience.
"He could be argued as the greatest coach ever, so especially when you're at UCLA, [you admire him]. ... I knew I wanted to do a portrait of him. And from the connections that I have at UCLA, a lot of the people are really good friends with Coach, and I showed it to them, and they said, 'Wow this is great.' And I said I'd love to show it to Coach in person, and they said for sure, we'll get it set up.
"He would have breakfast every morning at this place called Vip's in Encino, on Ventura Blvd. And they had it scheduled for me to go and meet him for breakfast. And that was a really special time. ... And when we were done, I went out in the parking lot, and I had a big truck with the piece in there, and I ... showed it to him, and he said, 'That's great. I love it. You can put it anywhere you want on campus.' And that was the whole thing. I really wanted to give something to the university, with him. To share that with them was really cool.
"And then when he passed, his family didn't know about the piece, and when they saw it they said, 'We want that to be the only thing on stage for the memorial.' So unfortunately, I was out of the country when it happened. But my dad and my brother went. And you walk in the Pauley Pavilion and the lights were all off except for the stage, and there was a light on the piece, and then his Pyramid of Success in the background. And I'm like, 'Wow.' That was really cool. Really cool. That was pretty special."
Any other sports pieces on the horizon?
"Because I have a sports background, I think that the obvious choice is that I would be doing people in sports. But it's funny, because since I stopped playing, I'm not as big of a sports fan as I used to be. I'd much rather go to Art Basel [an annual event in Miami] than the Super Bowl, I guess."
So what's next for you?
"I'm working on the series right now where I'm killing off my favorite artists. The first one of that series I did a couple years ago was 'Death to Banksy.' And so it's continuing on that series. [Editor's note: For the unfamiliar, Banksy is a famous (and almost mythical) street artist and the man behind the Oscar-nominated pseudo-documentary "Exit Through the Gift Shop."]
"I didn't know if I wanted to do that -- and when I made the Banksy piece, that wasn't my intention. ... But I did a print of the piece, and it was so popular that I thought, 'OK, if I did want to do it, what would I do?' And then some really fun ideas came out of that. It was paying the ultimate respect to these artists that I respect. And the best way for me to do that is for me to kill them in a fun way."
Have to ask: How does art compare to football? Or does it at all?
"I don't know if you could ever capture the feeling [of football]. I had a great game against Michigan at the Rose Bowl. It was sold out. We won the game, and coming off the field [I saw] my parents up in the stands. ... [They were] so happy, and [I was] pointing up to them.
"That's going to be tough [to match]. That's an accumulation of 15, 20 years of working with my dad and them being on my team to get me to that point, and so they were sharing it.
"But I don't know. Maybe there's a point, say, 15 years from now. Say, you get invited to represent the United States at the Venice Biennale [a biennial art exhibition]. That's something that could be on that level. But I don't know. I think it's about the time in my studio, making the work, having these ideas. And this is the icing on the cake."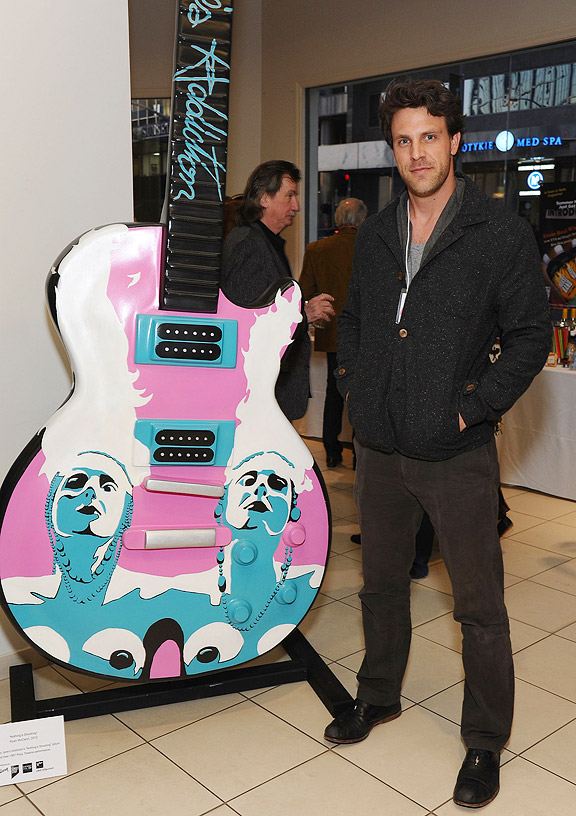 McCann, with a Jane's Addiction commemorative guitar, in March in L.A.
Angela Weiss/Getty Images