On July 19, Golden State Warriors guard/former Davidson College sensation Stephen Curry and wife Ayesha Alexander welcomed their first daughter, Riley, into the world.
Then Curry asked fans to do the same. But not just with tweets or other written well-wishes. The social media-savvy Curry conducted a contest through the website/mobile app Doodle.ly, asking fans to illustrate their hellos to Riley, with the winner receiving an autographed basketball from Curry and the top three getting autographed prints of their artwork.
Curry announced the winners Tuesday. Here are the top three, plus a few of our other favorites of the more than 100 submitted, courtesy of Doodle.ly and Curry.
The Winner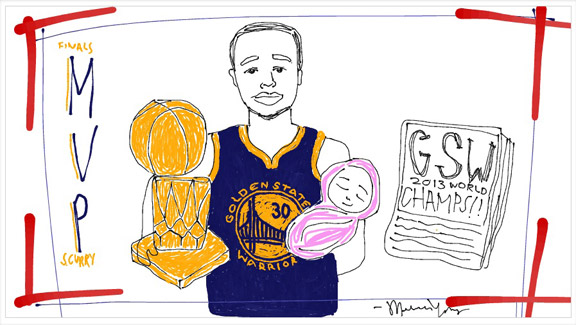 By user Melissa Yang
Second Place
JeeeeeL
Third Place
scottmholmes
Other Favorites
_bing23
DivyaSriharan
Cllee720
elenaoltra
Caleena Lee
Ke Xin Liao