Replace Tiger Stadium? Not a chance.
But renovate it? Not a problem.
That's what LSU did recently to its nearly 90-year-old, 92,000-seat home, with one particular feature giving a visual pop to the aging edifice: A multicolor, LED lighting system on the stadium's north end.
Now instead of white lights that match lightning ...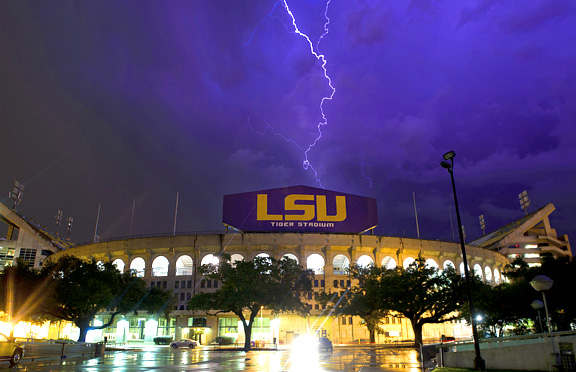 ... the area glows LSU Tigers purple and gold, to match that massive scoreboard added in 2009.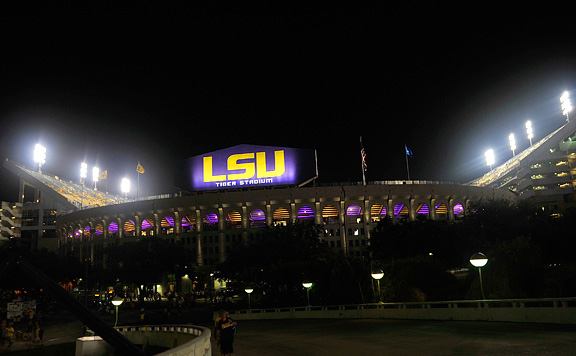 The reason for the wholesale change, according to senior associate athletic director Eddie Nunez: "Tiger Stadium has a lot of great architecture that was just kind of being hidden."
And the lights, in particular: "[We wanted to] bring it back to life and restore its luster -- and then also try to find a way to make it exciting for our fans, give it some fresh life with the arches."
That they did, adding a system that allows for hundreds of different schemes. That means all-gold after wins by the third-ranked Tigers, multiple variations of LSU colors (including flashing, flickering and chasing lights), and even some seasonally appropriate arrangements should the mood strike.
"On the Fourth of July, we could do red, white and blue," Nunez said. "I mean, these schemes are unlimited. ... We're still having fun with it, I guess you would say. We're enjoying the opportunities that it presents for us."
The school also is enjoying the look it offers to passers-by on the stadium grounds, drivers across Baton Rouge's Horace Wilkinson Bridge and even diners in some high-up downtown restaurants -- all of whom can enjoy the lights even on non-game days, as they're left lit from 6 p.m. to 6 a.m.
"We wanted pepole to understand that all the effort and hard work that's gone into cleaning up Tiger Stadium and really trying to enhance the look [is worthwhile]," Nunez said.
Next up for the school is a South end zone expansion. Construction begins in a couple of weeks, according to Nunez, and the end result should also include this type of lighting.
"We're still in the early stages with this and trying to understand and really [seeing] how much the capabilities are," Nunez said. "The sky's the limit, I guess you would say.
"As long as we keep getting good responses from our fans, we're going to continue to push the envelope just a little bit."
Photo credits: Getty Images (1 and 2), Stephen B. Franz/LSU athletics (3-5).