Photographer Jon SooHoo is happy to shoot the home run or the touchdown. He's even happier capturing what happens after, on the sideline or in the dugout, clubhouse or locker room.
"I've always prided myself in not just ... shooting between the lines," SooHoo said. "I shoot a lot more outside the lines.
"It's pretty cool to see a great action shot, but if you see the [USC] Trojans inside the locker room just bouncing off each other because they're so amped up ... that's probably when I get the most recognition."
That last sentence describes one particular image captured this year by the 50-year-old SooHoo, a Los Angeles native and 1985 USC graduate who serves as official team photographer for the Los Angeles Dodgers while also shooting for his alma mater on the side.
We caught up with SooHoo recently to talk about that image and many more, taken either in an official capacity with a team or as a freelance photographer for many publications around Los Angeles over the past 25-plus years.
Lane Kiffin addresses his team in the USC locker room.
On the early part of his career, during which he shot for all sorts of publications, including the Los Angeles Times and the Pasadena Star-News:
"There was a lot of sports in L.A. at the time. ... I would get credentials wherever I could and get into as many games as I could. You shoot whatever you can shoot."
On the differences between then and now -- the transition from film to digital, which happened in 2000:
"Probably my biggest problem is I shot so much film. I have filing cabinets' worth of slides, negatives, color negatives, black-and-white negatives from format cameras that I shot. It's just a very large library of stuff.
"A lot of my best stuff is on film -- which is the Joe Montana years, and Jerry Rice, and old Dodgers stuff. ... There's a lot of images that I haven't even gotten to that have been shot on film that someday, maybe, will be digitized at some point."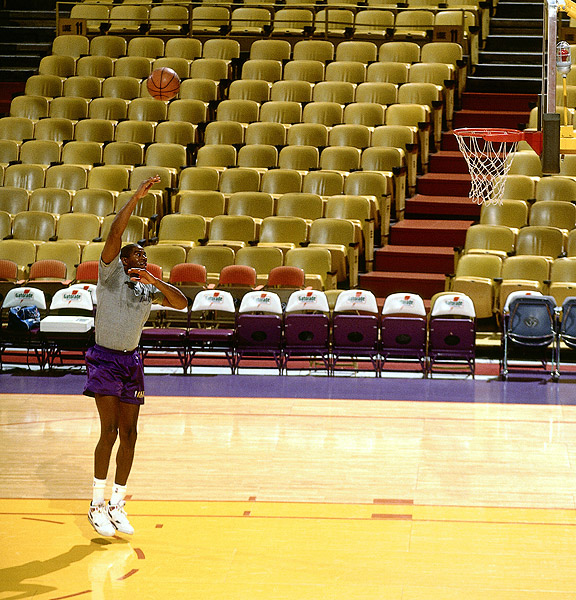 Magic Johnson in 1994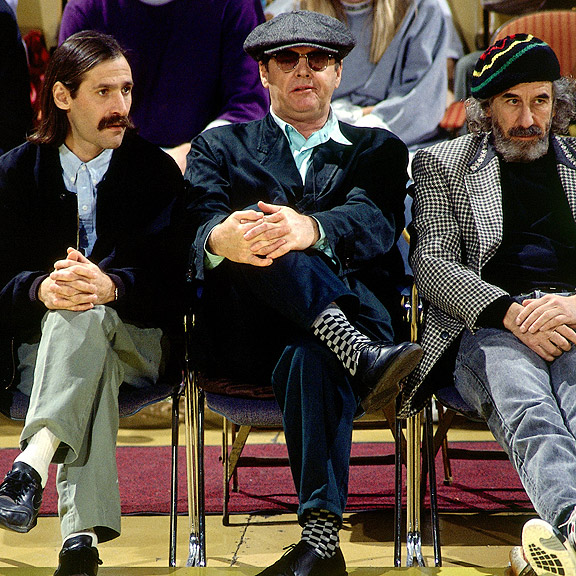 Jack Nicholson in 1990
On shooting the Dodgers these days, at home and on road trips:
"Because I've been in with the team for so long [since 1985], I'm trying not just to shoot the game. I actually take my wide-angle and go into the clubhouse and shoot some stuff behind the scenes. I do that stuff a lot during the day."
On sharing all the photos online, through his official Dodgers blog:
"The cool part is you can see it. The uncool part is when people take the images off the screen ... for players to autograph at baseball games. Yes, I'm sharing these and they're out there for the world to see, but it's not meant for somebody to take off and go get autographs and sell it. ... [In music], they'd be up in arms, but it's so uncontrollable that I'm just learning to [live with] it, but it's a shame that it has come to be like that.
"That's my objection to it. I'm happy that the real fans enjoy it. When someone makes a shirt for themselves to wear, that's awesome. ... But I have to just turn my head and just [deal with it]. I'm making my salary, but I don't like them being used."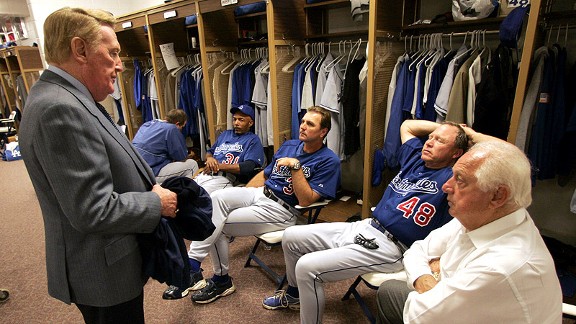 Vin Scully talks to Tommy Lasorda and the Dodgers coaching staff in 2004.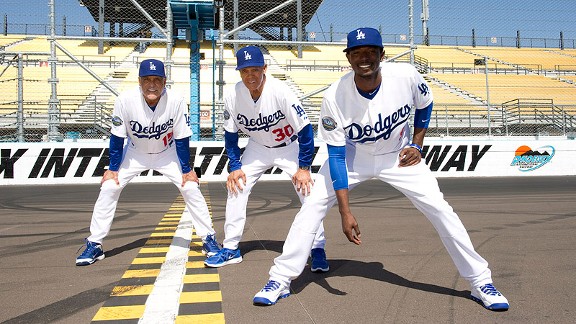 Dodgers players at Phoenix International Raceway in 2012
On being a photographer in the USC locker room (2008 was his first year allowed in there):
"It's very sensitive to go into the locker room. They always have been that way, since I started with Pete Carroll. ... So I had to get used to these big old bodies bumping into you and just kind of moving you out. Make sure you're out of the way and not in anybody's space. ... You're supposed to be a fly on the wall, but I'm 6-2 and 200 pounds myself, so I'm not really small.
"I'm seeing a lot more and hearing a lot more than the average fan would be a part of, and this is what hopefully my pictures are conveying."
On that locker-room photo of Kiffin addressing the team, which came before USC's season opener against Hawaii (which can be seen on USC athletics' official site):
"I actually had a pole camera ... and I had a fish-eye [lens] on it, and I was able to get literally on top of coach. It was pretty cool. I love that shot, because the contrast between baseball locker rooms and football locker rooms is that in baseball, they're off in their own areas, they're putting their iPods on, they're in their own little world because they're trying to get ready for the game, whereas football they're just [energized]. When the helmets go on, that place is just bouncing off the wall."
The USC Trojans locker room in 2012
Matt Barkley leads the Trojans out of the tunnel for the Hawaii game.
On being present at memorable moments in sports:
"Some of the greatest moments [I've seen], if I missed the shot, I'm angry. I didn't do my job right if I got emotionally involved. There was a UCLA game years back where I was in the wrong corner of the end zone, and I was happy USC won, but I was like, 'I just missed that shot. I should have been on that end.'"
On how being a photographer affects the way he sees sports:
"I don't get too emotionally involved in the game anymore. I'm just trying to be technically correct and just trying to be in the right place in the right time. So emotionally, I'd say that Kirk Gibson against the A's in '88 was probably the most phenomenal thing that I've been through and actually recorded properly.
"I've had a lot of SC memories all the way back to when I was a kid. But no one stands out more than the other. No photo stands out more than the other. I just try to go it day to day, and if I happen to get a shot, even better."
Tommy Trojan before the Hawaii game
The Dodgers' dugout during Thursday night's game at Nationals Park
USC photos courtesy of Jon SooHoo/USCTrojans.com; Lakers photos credit Jon SooHoo/Getty Images; Dodgers photos courtesy of Jon SooHoo/Los Angeles Dodgers.