Well-compensated NFL players and coaches engender little sympathy when it comes to busy schedules. Most of us deal with being "too busy" all the time. Still, the NFL season is definitely a grind -- a grind made even tougher by arduous travel schedules both in terms of distance and frequency.
The Baltimore Ravens, for example, began the season with four games in 18 days between their Sept. 10 Monday night opener against the Cincinnati Bengals and their Sept. 27 Week 4 game against the Cleveland Browns on a Thursday night. This is the first year the NFL has scheduled Thursday night games every week -- great for TV, not so great for players and coaches.
It would stand to reason that those teams that travel the most miles will find themselves at a slight disadvantage, while those that log the fewest might be less road-weary by the time December rolls around.
The NFL's 2012 Kickoff Information Guide listed the total miles that all 32 NFL teams will travel this season. The data proved fertile ground for the latest infographic from SportsData LLC.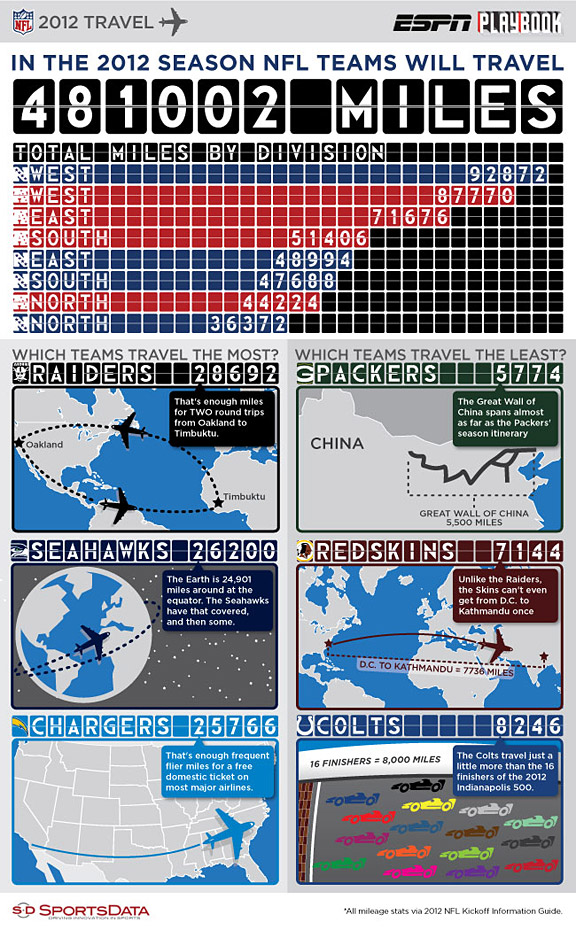 In our infographic, we highlighted the teams that have both the most rigorous and softest travel schedules. Not surprisingly, teams located on the coasts tend to have it the worst; those from the middle of the country have it the easiest.
A few other fun notes on NFL travel this season:
• Just outside of the top three toughest travel itineraries are the St. Louis Rams (fifth) and New England Patriots (seventh), who travel to London to face each other at Wembley Stadium in Week 8.
• In spite of their busy schedule to begin the season, the Ravens (11,142 miles) travel less than all but eight teams this season.
• The total miles traveled by NFL teams this season (481,002) would be enough to get from the Earth to the moon … and back. The average distance from the Earth to the moon is 238,855 miles.
Infographic by SportsData LLC -- click here to see it in a larger format.