The dreams of 6,352 have been reduced to only nine. The World Series of Poker main event final table is set with superstar JC Tran in the lead with 38 million in chips. He battled through a tough Day 7 to emerge with the biggest stack, mostly because of his relentless aggression as the final table bubble approached.
Day 7 began with 27 players and Anton Morgenstern in complete control. He spoke after play on Day 6 about his patience and many of the game's best told me before the day that they expected him to coast into the final table. Unfortunately the cards wouldn't oblige. Morgenstern made an interesting call and was dealt a major cooler during the second level to Mark Newhouse, flopping trip aces to Newhouse's full house. Morgenstern lost more than half his stack on that hand and shortly after he'd run into aces with A-J to fall in 20th.
The chip lead changed continually early as Newhouse and James Alexander couldn't hold on to their edges. Alexander had an epic blow-up before dinner and that opened the door for Amir Lehavot to take control and for most of the night, there was little doubt that Lehavot would be a November Niner. Once only two tables remained, the short stacks tried to find the right spots with timely three- and four-bets all-in. For some, such as Ryan Riess, it worked. For others, such as Rep Porter (12th), it did not.
Tran eliminated Matt Reed in 11th to create the unofficial final table. Seated on the main stage in front of hundreds of cheering and screaming friends and family, Newhouse walked up to the table with six big blinds and an agenda. He said he was going to make the final table and after a double up with A-6 over Q-4, that was absolutely the case.
With Newhouse slightly out of danger, Tran began to pressure the other stacks and ran into some interference. Riess capitalized most, moving from one of the short stacks to the middle of the pack.
Nobody in the Amazon Room expected to see what happened next: 2001 World Series of Poker main event champion Carlos Mortensen bubbled the final table. Mortensen didn't sit back and blind away, but got involved in few hands, which had onlookers stunned. Tran eventually captured Mortensen's chips after the Spaniard called all-in with Ac-9h on the turn of a 10c-6c-3s-9c board. Tran showed 8c-7s for a straight and Mortensen needed to find another club on the river to keep his dreams of a second title alive. With the 2d placed on the felt, the entire room erupted. The players headed to their rails to celebrate as Mortensen stood in the center of the stage just wondering how it all went wrong. For his 10th-place finish, Mortensen earned $573,204, his fifth-highest career cash.
Here are the 2013 November Nine:
JC Tran (38.0 million in chips): The poker world wanted a star at the final table and in JC Tran, they definitely have one. He has won two WSOP bracelets, a WPT title and has $8.3 million career tournament earnings. This is his sixth cash of the 2013 WSOP and his sixth main event cash over the past 10 years. He had no fear of putting millions in the pot late and that's what boosted him into the final table as the chip leader. Tran said that the final table is just one of two great things to happen in November as his wife is due with their second child.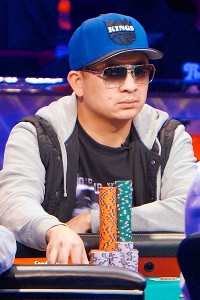 Jay Newnum/BLUFF
JC Tran leads the 2013 main event final table.
"It's all for them now, it's not about myself anymore," said Tran. "I go out there for them and play for my family. ... The one guy that I really respected the most was the guy I just busted, Carlos Mortensen. I've played with him for many years and him and I have had some really good battles. ... I like the guy a lot, it's sad to see him go, but at the same time, I'm happy he's gone because he was the one I respected the most at that final table."
Amir Lehavot (29.7 mllion): Talk about flying under the radar. The winner of the $10,000 pot-limit hold 'em event in 2011 was one of the shortest stacks to begin the day, but he capitalized most off of James Alexander's blow up during the third level on Day 7. This is the 38-year-old's 13th career WSOP cash and he will be the oldest player at the final table, where he'll try to become the first Israeli to win the main event. He's a professional poker player by trade, but also has a degree in engineering.
Marc-Etienne McLaughlin (26.5 million): It has been quite a year for Canada at the World Series of Poker and McLaughlin is looking to continue that trend. This is his seventh career WSOP cash and more impressive, his third top-86 main event cash over the past five years. He has made one WSOP final table, finishing third in a $1,500 event in 2011.
"It's a wonderful feeling, and I don't think I fully realize it right now," McLaughlin said. "Three months of party and joy. That's what I'm thinking about. And some sleep."
Jay Farber (25.9 million): The 28-year-old nightclub promoter played a lot of poker before Black Friday and just recently turned to having a, as he said, "real job." He plays the cash games in Vegas and decided to enter some satellites because he believed there was added value. Farber won his way in and as far as his November Nine preparation, two players on his rail were none other than former November Niners Ben Lamb and Michael Mizrachi. This is his first career WSOP cash and second main event.
"I'm amazed I made it," said Farber. "You just think you're going to show up and see what happens. I just stuck with my style of poker and played the way I thought would be the most effective with the least amount of variance and it worked out well."
Ryan Riess (25.8 million): You're going to hear a lot about "Riess The Beast." The Michigan State grad found poker and has been motivated since a second-place finish at a WSOP Circuit main event to find greatness. Well, now he's here. Riess had one of the most vocal rails on the day, but he battled from the short stack with perfect aggression to make it this far. Expect the same heartfelt effort to show in November.
"I'm so happy, time to win this tournament in November," said Riess. "When we were short-handed, five-handed and six-handed, I feel like everyone was playing a little soft and I had the chance to run over them. I think they were all just really excited to make the November Nine and so I decided to start mashing."
Sylvain Loosli (19.6 million in chips): The 26-year-old Frenchman is making his first career World Series of Poker cash and has only one tiny score on the EPT as part of his tournament resume. That said, he plays $25/$50 no-limit cash games online and if we look back at last year, some guy named Merson had those same credentials. Loosli likes being underestimated and hopes that he can exploit that image come November. More than anything, he wants to win this for France.
"I've very proud to represent my country," said Loosli. "I will do my best to prove that French players can be as good as American ones. ... [For the next four months] I'm planning on going on vacation and playing more live tournaments to keep improving my [live reads], plus work with some coaches."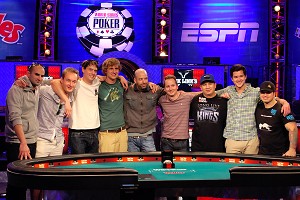 Vin Narayanan/Casino City
The final table, from left: Sylvain Loosli, Michiel Brummelhuis, Mark Newhouse, Ryan Riess, Amir Lehavot, Marc-Etienne McLaughlin, JC Tran, David Benefield and Jay Farber.
Michiel Brummelhuis (11.2 million): The Dutch pro has been successful around the world for the past six years and is one of the most respected players in that poker community. He has made WSOP final tables, earned six-figure scores and won side events. Now he has the biggest opportunity of his life and a chance to become the first world champion from the Netherlands. Brummelheis, 32, owes his tournament to a river 7 that gave him a straight with J-9 against Loosli's A-J, and now that he has the second chance, he isn't going to let it go easily. Just like Tran, he's expecting a child this year.
"He's one of the nicest, most well-respected tournament players and down-to-earth players I've ever had the chance to cover," said Remko Rinkema of PokerListings. "He's been winning online tournaments since 2007."
Mark Newhouse (7.3 million) After his win on the World Poker Tour in 2006, Mark Newhouse fell quickly out of the poker spotlight and fell onto tough times. After the performance he put on during Day 7, many will remember the 28-year-old's determination and even though he's short, you can't count him out at the final table. Newhouse finished 182nd in the 2011 main event. Including ninth-place prize money, he has $2.7 million in career earnings.
"I'm feeling great, it was a crazy day," said Newhouse. "Anyone who knows me and who plays poker with me on a regular basis knows I'm not a patient person, but there's so much on the line [for the final table], you just have to do it sometimes."
David Benefield (6.3 million): "Raptor" is one of the original online poker superstars in the post-boom era. The 27-year-old Texan was part of the support squad during Craig Marquis' run in 2008 and now he'll have his own shot. According to Brian Hastings, Benefield been active in the Macau cash games as of late while also studying political science and Chinese at Columbia. Prior to the main event, he had only one WSOP cash this Series, but made $115,000 in October with an eighth-place finish at the WSOP's 50,000 euro high roller event. If there was someone who played nearly perfect today, it was Benefield. While he tightened up on the bubble, he deserves this final table bid.
The November Nine leave the Rio with ninth-place prize money and will return to battle for the WSOP bracelet Nov. 4 and 5. The final table will be broadcast by ESPN.
1. $8,359,531
2. $5,173,170
3. $3,727,023
4. $2,791,982
5. $2,106,526
6. $1,600,792
7. $1,225,224
8. $944,593
9. $733,224