Since Black Friday, or even the passage of the UIGEA years before that, players and fans gather before the start of the WSOP and wonder if the game's time in the spotlight has permanently passed by. Contrary to that sentiment, the WSOP boasts record numbers year after year, but for one valid reason or another (there are many), doubt fills the consciousness and makes me, and probably many others, ask every May if the players will show up for another stint in Vegas. If you build it, will they come?
After 10 days of the 2013 World Series of Poker, I echo the words of Papi on DLHQ and say I am very intrigued. The Rio has been filled with a rejuvenation of the game, a feeling of excitement, and has crowned 10 first-time winners out of the 11 champions. Sure, there have been field sizes this year that fell short, but unfathomable turnouts, like the one witnessed in the Millionaire Maker, prove that the game is alive and well on even the smallest scale. Getting more than 5,000 players to enter that event solidified in my mind that there are still those who dream of poker success while playing at their home games and not just the small circle of professionals who travel the circuit and, as Brad Willis put it recently, just take each other's money. Those are the players who can keep the economy alive and the WSOP thriving. Poker is still a game for the masses, and the WSOP, unlike any other tour or venue, can put the game on a pedestal and prove to all that we, as an industry, aren't going anywhere.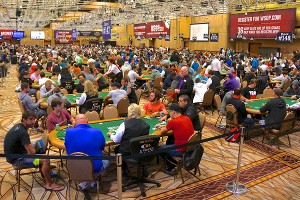 Jay Newnum
Among the masses in competition this year is Olympic great Michael Phelps. He made Day 2 in his first event.
I'd love to put up a table that offered side-by-side comparisons of turnout so I can support my statement with ease, but what the WSOP has done is optimized its schedule and shifted events around, which essentially makes comparison impossible. For example, the $5,000 no-limit Event 2 managed a field of 481 players, a disastrous result when you compare it to last year's 1,001 in the same event. The key difference is that last year's $5,000 took place right before the main event and capitalized on the influx of players. The best way to look at year-over-year turnout is the weekend events, but nothing from last year can compare to the Millionaire Maker.
Highlighting the eight-game struggles is important, as it fell to 388 players from 477 in 2012. Timing may have played a role, but perhaps more important, the massive buy-in events that took place in Macau isolated a good number of pros who would play in this event. Similarly, the ISPT offered a conflict with the WSOP and attracted WSOP regulars like Michael Mizrachi, forcing them to miss the first dozen events. As a result, the player base may have been smaller during the first week.
Now that those events are over, the WSOP once again has no competition and will hope to get back on track even in the lesser-played variations.
Some other general thoughts from the Series so far:
O Canada! Four champions out of the first 11 events is substantial, and as I mentioned on the Poker Edge on Thursday, I'm going to give a little bit of credit for these results due to the availability of online poker. As we all witnessed during the poker boom, strategy evolved quite often online. Perhaps the additional playing time has helped these champions move in the right direction. Looking at the champs, they have all stated they played online. It might be a stretch, but it makes a little bit of sense. Your counterargument is asking why other countries haven't been more successful, and by even asking that, you're probably taking away any validation from my argument. I'll also throw in Jonathan Duhamel's influence on the country over the past three years and how Canada's player base is bigger than ever.

The heads-up battle between Matthew Waxman and Eric Baldwin had to be one of the most incredible efforts we've seen in a long time. The majority of the heads-up no-limit play at the WSOP typically lasts a few hands, maybe a dozen; 187 hands just simply doesn't happen. For nearly seven hours, the two battled for every chip, both moments away from victory time after time, and the one at risk just continued to double up. Keeping their composure throughout the match and displaying that aggression isn't the answer all the time is an important lesson to aspiring players. Have another gear and know when it's time to buckle down and grind. Oh, and you want irony? In the next event Waxman played, Baldwin was at his table.

Dan Kelly has already final tabled two events, including the Millionaire Maker. He's ninth in the WSOP Player of the Year race without a win. Daniel Negreanu owns him and another bracelet winner, Mike Gorodinsky, to completely dominate our league so far.

How the WSOP hasn't launched its real money site still amazes me, but it's doing a good job promoting it around the Rio. It's offering players who sign up on site chances to win WSOP seats, money, etc. But if the site isn't up and operating soon, the WSOP will have missed this massive opportunity.

It's been a quiet series for Phil Hellmuth, including a one-hand exit in Event 14. I wonder how long that will last.

Phil Ivey is 0-fer right now. Before you get all concerned, he did the same thing last year before pulling off five final tables in record time.

Erik Seidel, John Juanda, Duhamel, Isaac Haxton, Shaun Deeb, Joseph Cheong, Greg Merson and many others are on their way back from the GuangDong Ltd Asia Millions. If you haven't already, you'll start to recognize the names of winners very soon.
Small blinds: Germany's Niklas Heinecker won the GDAM (approximately $130,000 buy-in) for $4.4 million. In that event, eight players, including Sorel Mizzi, Jeff Rossiter and Haxton, were paid at least $772,870. Ninth place got zilch. Talk about a huge bubble. ... Ultimate Poker has signed a number of pros to its roster, including Jason Somerville, Jonathan Little, William Reynolds and Lauren Kling. It has also been active promoting bounties and bonuses for players in Nevada. ... WSOP.com has announced the WSOP.com Online Championships and the Online Nine. The tournament series will take place in October, and the winners will become part of the Online Nine that will play out the final table in person before the final table in November. ... A bill has been introduced in the U.S. Congress that would legalize online gambling. The bill looks similar to what we've seen in the past and will have a difficult time moving forward. That said, at least there's movement in the fight for legalized federal online poker. ... Jakub Michalak won the aforementioned International Stadiums Poker Tour event. Tournament organizers had to add more than a half million euros to the prize pool to cover their guarantee. ... Eric Crain will enter the final table of Event 12 as the chip leader days after he entered the Event 8 final table as the chip leader. He has placed himself in Player of the Year contention with his finishes thus far. ... After weeks of building the bad beat jackpot across the Caesars properties in Las Vegas, it was finally hit. The quad aces of Sarah Whang beat Robert Kopke's quad kings, and 107 players across the company's card rooms earned $5,982. For losing the hand, Kopke grabbed $182,952, and Whang's win was worth $91,447.