DETROIT LIONS
Record: 9-7
Finished second, NFC North
The Detroit Lions are heading to Seattle for an NFC wild-card matchup on a three-game losing streak. That, the players and coaches say, doesn't matter. That was the regular season. This is the playoffs.
"It's a total restart. You see teams that lose three of four, or lose four or five and go win the Super Bowl," quarterback Matthew Stafford said. "You see teams get hot at the end of the season and go win it. Can't really tell, it's all matchups and a new season pretty much."
Yet Stafford is looking back at what the Lions have done during the season to give him a reason Detroit can win. The Lions have trailed in the fourth quarter in 15 of 16 games this season and won eight. They've been able to close a game out (New Orleans) and know how to rally in adverse situations.
"We're a hardened group. We've been through a three-game losing streak this season and bounced right back," Stafford said. "We're a tough group, mentally tough, physically tough. Obviously have a big challenge in front of us going to Seattle, a team that plays traditionally extremely well at home, against a really good team.
"That part of it is the challenge -- you've got to go out there and play well against a good team."
Lions reporter Michael Rothstein and Seahawks reporter Sheil Kapadia take an in-depth look at Detroit vs. Seattle.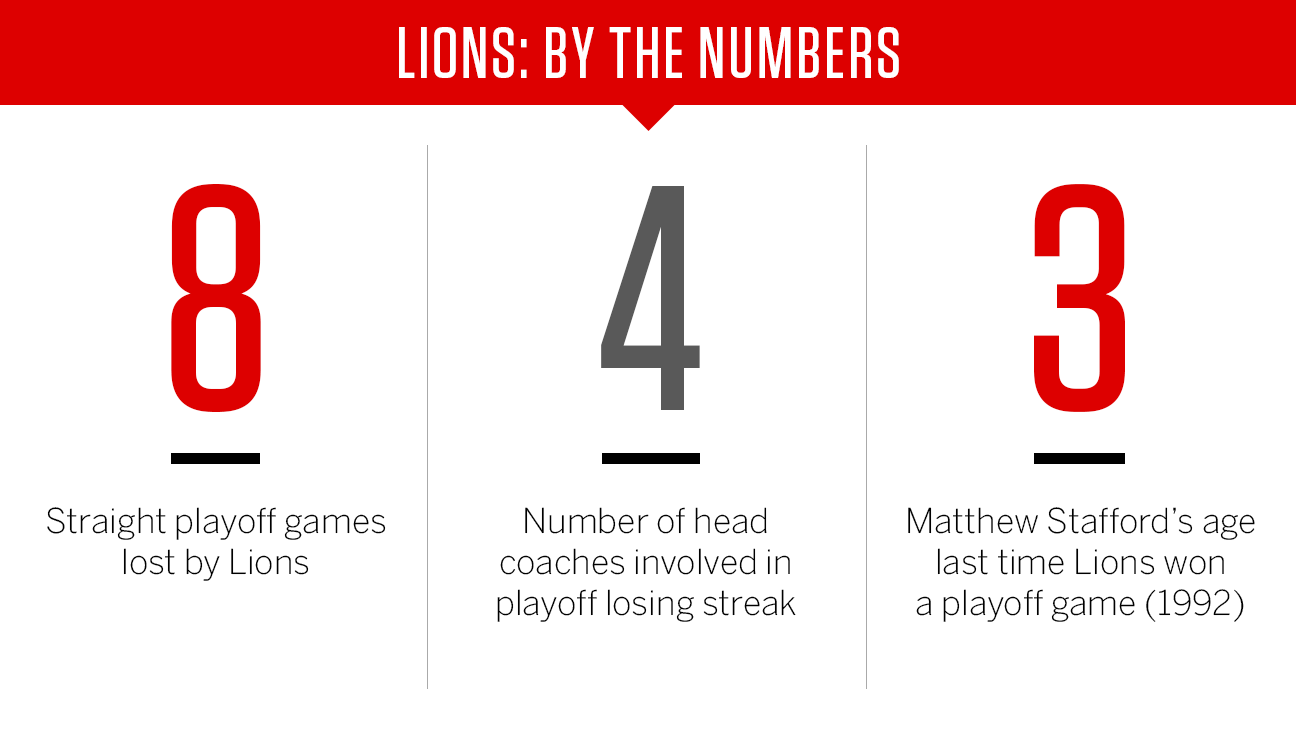 LIONS' X FACTOR
Running back Zach Zenner. Now the team's starting running back, Zenner has looked better than ever over the past two weeks, gaining 136 of his 334 yards in those two games. He has scored three touchdowns over the past two weeks -- after scoring only once previously in his career. If the Lions can keep Zenner involved and productive for an entire game -- something that hasn't happened as the majority of his production has come in the first halves -- that could give Detroit the offensive balance it hasn't had all season and take pressure off Stafford.
WHY THE LIONS WILL WIN
There could be areas, away from cornerback Richard Sherman, that the Lions can exploit offensively, particularly with safety Earl Thomas out. Seattle's run game isn't as strong as in past years when they've used it to set up Russell Wilson and the pass. Containing Wilson will be a chore, but if the Lions can make Seattle one-dimensional they would have a decent chance. The Lions have an elite speed rusher in Ezekiel Ansah, so if he's able to contain Wilson's rushing ability on one side of the field, that could tilt the defense.
WHY THE LIONS WILL LOSE
Detroit hasn't won a playoff game since the 1991 season. Stafford is still playing hurt and has five interceptions in the past four weeks. If he's not on point the Lions can't win. Seattle has one of the toughest venues in the league to play in and a prime-time playoff game will mean extra hype. The Seattle defense, even without Thomas, is one of the best in the league and in the top 10 in almost every category. The Seahawks can easily make the Lions one-dimensional on offense, and considering potential injuries on the offensive line (center Travis Swanson and right tackle Riley Reiff are questionable), that could mean defensive ends Cliff Avril and Michael Bennett will get a lot of shots to hit Stafford and make him uncomfortable.
LIONS PREDICTION
Winning in Seattle is a very, very difficult proposition, and the Lions have to play close to perfect. They've only managed it once this year -- at New Orleans -- and that was with a healthy quarterback, a healthy dual-threat running back in Theo Riddick and against a subpar defense instead of one of the NFL's best. The Lions can keep this close, but the home-field advantage and Detroit's inconsistencies on offense will be the difference. Seahawks 20, Lions 10
SEATTLE SEAHAWKS
Record: 10-5-1
Finished first, NFC West
One of the core principles of Pete Carroll's coaching philosophy is that the finish is more important than the start.
That's what makes this season feel so unfamiliar to the Seattle Seahawks.
Carroll's squad stumbled down the stretch, finishing 3-3 in the final six games. And the Seahawks' formula for success is different than in previous years. They've been unable to run the ball (3.95 yards per carry ranked 24th in the regular season), and the defense has looked vulnerable.
But this is a team that has made the postseason for five straight years, and Carroll is hoping the veterans have a Super Bowl run in them.
"The voices that are really the strongest in the locker room are sending a message and helping guys understand how we're going to get through it and how we approach it," Carroll said. "That's just the leadership that comes from within that really helps us the most."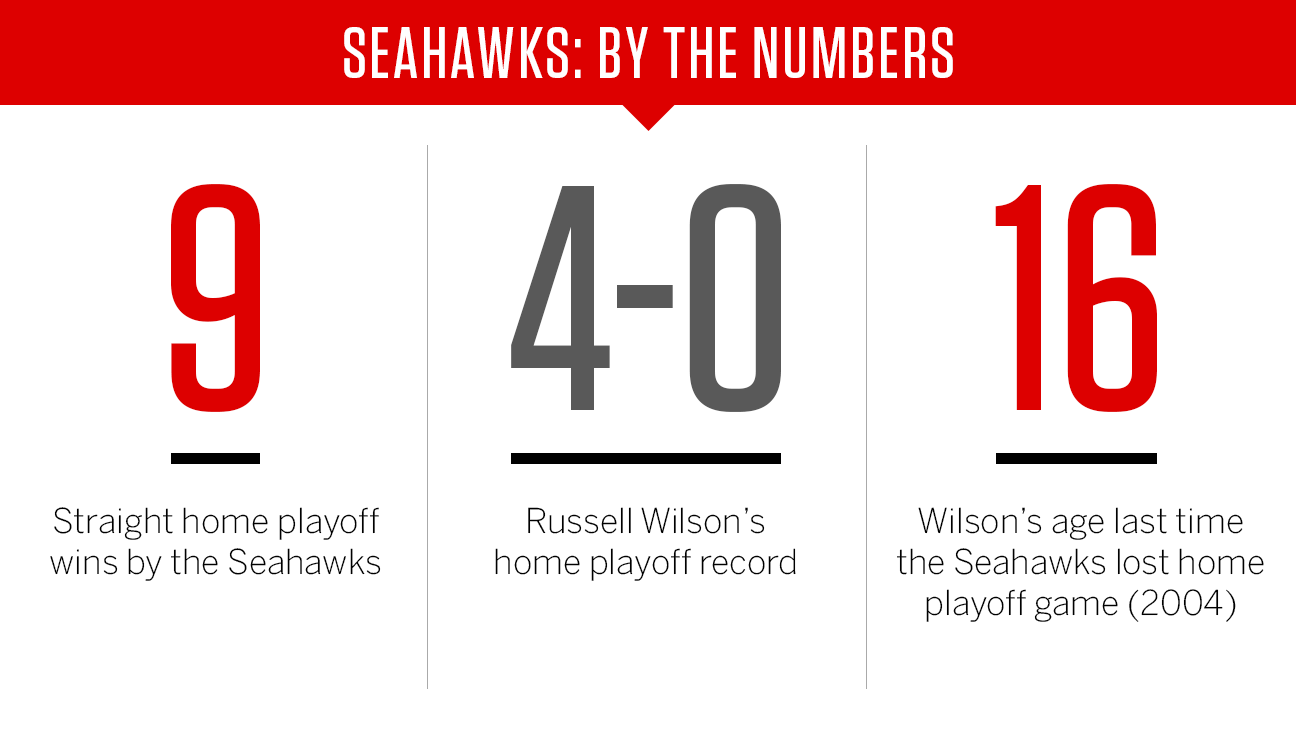 SEAHAWKS' X FACTOR
Running back Thomas Rawls. As a rookie, he led the NFL in YPC (5.65) and seemed poised to take over for Marshawn Lynch. But Rawls has battled through a number of injuries (ankle, fibula, shoulder) and has never looked quite right (349 yards, 3.2 YPC). The Seahawks have had 10 games this season in which they've failed to rush for 100 yards. That happened nine times total from 2012 to 2015. Wilson's limited mobility has been a big factor, the run blocking has not been good, and 18 different players have carried the football. Given that the run game works hand in hand with the Seahawks' downfield play-action passing attack, the Seahawks are still hoping to find some balance. But they need Rawls to recapture some of the magic he had last year if they're going to start clicking.
WHY THE SEAHAWKS WILL WIN
Wilson, wide receiver Doug Baldwin and tight end Jimmy Graham should be too much for the Lions to handle. Opposing quarterbacks completed 72.7 percent of their passes and posted a passer rating of 106.5 against the Lions in the regular season. Both were the worst marks of any defense in the NFL. Baldwin tied a franchise record with 94 catches in the regular season, while Graham finished third among tight ends with 923 receiving yards. Even if the run game isn't producing, the offense should be able to move the ball with Wilson targeting Baldwin and Graham early and often. Defensively, the Seahawks' front seven should dominate. Avril and Frank Clark combined for 21.5 sacks in the regular season, Bennett is disruptive every week, and linebackers Bobby Wagner and K.J. Wright have been among the team's most consistent players.
WHY THE SEAHAWKS WILL LOSE
They're not the same defense without Earl Thomas. With Thomas (broken leg) sidelined, the Seahawks have allowed opposing quarterbacks to post a passer rating of 99.5. When Thomas played, that number was 77.8. This is not the same Legion of Boom secondary that has been the strength of the team in previous years, and that's a big concern if Stafford gets hot. Offensively, the line is still a major question mark, and Seattle failed to produce any kind of consistency all season long. On special teams, the Seahawks missed six extra points (tied for second most), will be playing with a new long-snapper and are hoping newcomer Devin Hester can replace some of Tyler Lockett's production in the return game. This group has a lot of obstacles to overcome.
SEAHAWKS PREDICTION
The Seahawks are not the same team they've been in previous years, and it'd be a surprise if they got back to the Super Bowl for the third time in four years. But they went 7-1 at home, and the Lions present a favorable matchup. Detroit struggled to muster much of a pass-rush (26 sacks tied for second fewest) during the regular season, which is good news for the Seahawks' offensive line. And given how good Seattle's run defense has been (limited opponents to a league-low 3.37 YPC), the Lions' offense figures to be one-dimensional. Look for a big performance out of the Seahawks' pass rush, and Wilson will do just enough to lead his team to a victory in a game that will come down to the final two minutes. Seahawks 24, Lions 23