TUSCALOOSA, Ala. -- You think it's just a job for Alabama's Nick Saban?
Think again.
He winces every time he hears a college coach or anybody refer to it as a job.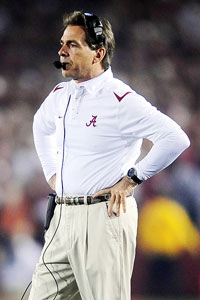 Mark J. Rebilas/US Presswire
Alabama's Nick Saban thinks coaching is a 24/7 lifestyle."This coaching, in college especially, is a way of life. It really isn't a job," Saban said. "When people view it as a job, then they don't really understand what it is."
It's the reason he's still peeved over not being able to go out in the spring and recruit. The NCAA's rule prohibiting head coaches from recruiting off campus during the spring evaluation period has been dubbed the "Saban Rule."
Before the rule was implemented, nobody pounded the pavement in the spring like Saban.
"I enjoy getting out and meeting the players and seeing the players as much as I do anything in what we do as coaches," Saban said.
While Saban has a long history of being cantankerous with anybody who poses as a distraction for his team, he says it again gets down to the fact that it's more than just a job with him.
And that goes for all the requests he gets. He's never going to bail on his team.
"I have people invite me to some art show or something and can't understand why I can't go to it," said Saban, who's been pulled in a million different ways since the national title. "It's like they think I should cancel spring practice and go to the art show."
Reminded that he once blew off the President of the United States because he was too busy coaching his team with the Miami Dolphins, Saban initially broke into a sheepish grin.
But then he quickly turned serious, his voice sharpening, and provided a little more insight into what makes him tick.
"Well, we had practice that day. Everybody got onto me about that deal with the President. Even the players did," Saban recounted. "But if you were a coach, would you miss practice to go to something like that?
"I've never missed practice. People ask me to go to Augusta, and I say, 'I can't go. We've got practice.' They say, 'You mean, you won't miss practice to go to Augusta?' and I'm like, 'Hell, no,' and I'd love to go to The Masters as much as anybody. But I'd never do that."
Now, that doesn't mean Saban can't relax, either.
He just needs to have some type of project going, whether it's playing golf or planting trees or working on his boat at his lake house.
He gets it honestly. His father was the same way.
"He always had something going on," Saban said.
And three days of "getting away" is about all Saban can handle.
He's also able to, in his words, chill out at night with his wife, Terry, after getting home from practice this time of year.
"But if I was there at 8 o'clock in the morning with nothing to do and watching the weather channel or whatever the hell people do all day, I couldn't deal with that," Saban cracked.