Getting Mississippi State coach Dan Mullen to slow down is about as difficult as getting him to utter the words "Ole Miss."
When you talk to Mullen these days about the Bulldogs' arch-rivals, he doesn't refer to them as Ole Miss, Mississippi or even the Rebels.
Rather, it's "the school up north."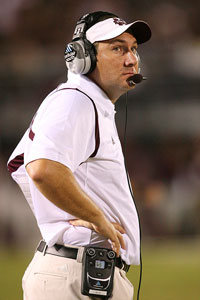 Marvin Gentry/US Presswire
Mississippi State coach Dan Mullen is focusing on getting the Bulldogs more efficient in the fourth quarter.On Monday, Mullen embarked on a five-day, 12-stop "Road Dawgs" tour of the state and surrounding areas. Traveling on a state-of-the-art motor home, he's speaking to Mississippi State booster groups and visiting with fans in all corners of the state from Batesville, to Kosciusko, to Biloxi.
While on the road, he's also busy looking at tape from spring practice.
"I have a video station this year on the bus where I can watch all of our cut-ups from the spring, take notes and get everything done while we travel," Mullen said. "It's more much efficient."
He expects the same from his Bulldogs next season.
Mullen, entering his second season at Mississippi State, thinks the 2010 team will be much more efficient in all areas and a lot more equipped to win games in the fourth quarter.
The Bulldogs lost a lot of close games a year ago, games that were settled in the final 15 minutes. The LSU, Houston and Florida contests all were teetering heading into the fourth quarter, but Mississippi State couldn't make the plays to win the game.
That changed in the season finale when Mississippi State finally broke through with a resounding 41-27 whipping of Ole Miss.
"For us to beat the school up north the way we did and to play the way we did in that last game taught our guys how to win those tough games," Mullen said. "We lost a lot of those last year. But, again, I think winning that game there at the end of the season over the school up north pushed us over the edge.
"It was a great win for us in what it meant here in the state and what it taught us, and we've been building on that momentum ever since."
Obviously, Mullen takes seriously the Egg Bowl rivalry with the "school up north." He's proclaimed more than once publicly that one school in the state of Mississippi is headed in the right direction, and that school is Mississippi State.
So to say he doesn't mind a little gamesmanship would be a gross understatement.
But will he ever refer to Ole Miss as Ole Miss again?
"Nah, they're the school up north," Mullen said. "We have some tough teams in our division. They're one of the ones we have to play every year, but we don't usually refer to them by name. To us, they're the school up north."
Say this for Mullen. He's certainly added some spice to what was already a pretty intense rivalry. No matter what the records are next Nov. 27 in Oxford, it should be entertaining.
The Bulldogs finished 5-7 in Mullen's first season, tantalizingly close to a bowl appearance.
Mullen says unabashedly that the goal in Year No. 2 is to find a way to win the SEC West. But he's also realistic. The Bulldogs play on the road next season against three teams that won the last four national championships -- at LSU on Sept. 18, at Florida on Oct. 16 and at Alabama on Nov. 13.
"Now I realize that's not exactly a recipe for success," Mullen conceded. "One big key if we're going to be successful next season is to win our home games."
And, yes, he absolutely expects to be in a bowl game next season.
"I would be disappointed in the season if we don't make a bowl game, even though I know our expectations are higher than that," Mullen said.