COLLEGE STATION, Texas -- Johnny Manziel plays with confidence and lots of it.
That mentality coupled with his talent helped him put up video-game-like numbers at Kerrville (Texas) Tivy, become an All-American and a heavily recruited quarterback. That let-it-all-hang-out swagger has served him well, but in an offense such as Texas A&M's, which is based on accuracy, precision and quick decisions, that mentality can be a drawback.
Manziel's ability wasn't a question for coach Kevin Sumlin and offensive coordinator and quarterbacks coach Kliff Kingsbury. His control and ability to work within the offense was, and it was in this area that the coaches saw significant improvement, helping the redshirt freshman win the starting job over sophomores Jameill Showers and Matt Joeckel and true freshman Matt Davis.
"He just came back to camp and was making really quick decisions, protecting the football really well and just made plays, continually, every time we put him in," Kingsbury said. "He was moving the ball and scoring points and ultimately that's what you want."
In the spring, Manziel wasn't always careful, which is something the coaches wanted to see improvement on.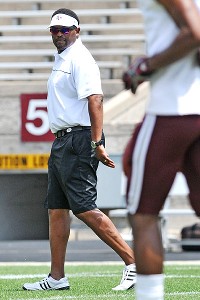 Patrick Green/Icon SMI
Kevin Sumlin will not be rotating quarterbacks now that he has named a starter.
"He was making some plays in the spring but he was pretty reckless with the ball," Kingsbury said. "He came back and was really continuing to make the routine play and all of a sudden he'd make a special play with his feet. So we just wanted to reel him back in from the spring and he showed up and he was ready to do that."
Sumlin said that the other quarterbacks didn't struggle, but Manziel's grasp of the offense and the ability to move the team were the differences.
"Basically it gets down to this: he's played very, very well," Sumlin said. "Is he perfect? No. He's nowhere near where we want him to be, but he has improved, he's doing what we need him to do.
"Like I said, it's not that the other quarterbacks were playing poorly. They all improved. I said it from the beginning, just watching them in the spring, not having an opportunity to really be in the system. Then getting the ground rules for the system, the reads, the progressions, route structure, conversions, all that stuff -- working on that through the summer, I've seen guys get better. They all get better. I think he came into the fall and there was real competition."
When he takes the field as the starting quarterback against Louisiana Tech on Aug. 30 at Independence Stadium in Shreveport, La., Manziel will be the first freshman to start a season opener at quarterback in Aggies history. The last freshman to start at any time at quarterback was Stephen McGee in 2005, when he started the season finale against Texas as a redshirt freshman. In 1991, Jeff Granger started the second game of the year at quarterback as a redshirt freshman.
While Manziel improved during the summer, it wasn't completely without incident. He was arrested in June in the Northgate bar district and charged with disorderly conduct, failure to identify and possessing a false identification card.
Sumlin said Thursday that Manziel has done a lot of things just to earn the right to practice.
"There's been a lot of things he has had to do internally, first of all to get back in the team's good graces and continue to be on the team," Sumlin said. "He's handled those and has probably done more than people even know. And there's something to that because there's a respect for the position, you have to be able to lead yourself before you can lead a team and in order to do that you have to have respect to do that. Internally, there has been some things that he has had to complete just to get back to this point and put the uniform on again and he's continuing through that. So that's where that is."
As Sumlin has said, there will be no rotation of quarterbacks. Manziel is the starter, plain and simple, a point Kingsbury also reiterated Thursday.
"He's the starter. He's going to play," Kingsbury said. "We're not a rotating quarterback system, so he's going to play and he's got a lot of talent around him. So we've just got to make sure that he doesn't think that he has to do everything and win it by himself."