This is when it really gets tough, because there's not a lot of difference in the 10th best player in this league and the 20th best player.
Of the first 10 players to make the cut, five will be back next season.
Let's see how many of these next 20 will be back.
Here we go with selections No. 20-16:
No. 20: Maurkice Pouncey, C, Florida: Versatile enough to play just about anywhere up front, Pouncey remained at center and was the anchor of the Gators' offensive line this past season. Go back and count how many times he cleared the way for one of Tim Tebow's key conversions on third or fourth down. Pouncey won't be easily replaced -- on the field or off the field. He started in 39 games in three seasons and was one of the strongest leaders on the team. He's giving up his senior season to turn pro.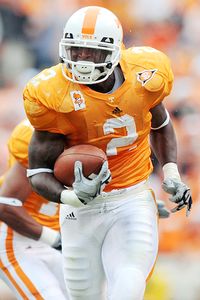 Jim Brown-US PRESSWIRE
Tennessee running back Montario Hardesty broke through this season with 1,345 yards and 14 touchdowns.
No. 19: Mike Johnson, OG, Alabama: As a junior, Johnson was overshadowed somewhat by first-team All-Americans Andre Smith and Antoine Caldwell. But this past season, with the Crimson Tide losing three starters up front, Johnson stepped up front and center as one of the most complete offensive linemen in the league. He was a consensus first-team All-American from his left guard position and anchored an offensive line that was rock-solid all season. All the while, Alabama went 14-0, won its first national title in 17 years and put up even better offensive numbers than it did a year ago.
No. 18: Montario Hardesty, RB, Tennessee: One of the comeback players of year nationally, Hardesty saved his best for his senior season. He'd been inundated with injuries through much of his career and really didn't get much of a chance as a junior. But this past season, he plowed his way to 1,345 rushing yards and scored 14 touchdowns. Hardesty carried the ball an SEC-high 282 times and didn't fumble a single time on a rushing attempt. Prior to this past season, Hardesty had never rushed for more than 387 yards in a season.
No. 17: Ben Tate, RB, Auburn: Tate was one of those guys who didn't quite make the cut on the preseason list. He was hurt by how dysfunctional Auburn was on offense in 2008. That wasn't a problem this past season. The Tigers fed him the ball, and he delivered. The 5-11, 218-pound senior rushed for a career-high 1,362 yards and 10 touchdowns. He averaged 5.2 yards per carry and proved to be one of the toughest backs in the league to bring down. Despite carrying the ball 263 times, Tate lost just 44 yards all season. He also showed that he wasn't just a power back and had three touchdown runs of 35 yards or longer.
No. 16: Dan Williams, DT, Tennessee: Williams had been a solid player for the Vols prior to this past season, but he certainly hadn't risen to the level where he could be considered one of the top 30 players in the league. That all changed during his senior season. He was consistently the best interior defensive lineman in the league in 2009 and likely played his way into the first round of April's NFL draft. Williams led all SEC defensive tackles with 70 total tackles and led the Vols with nine tackles for loss and nine quarterback hurries. He stuffs the run with the best of them, but is also an effective interior pass-rusher.
No. 21: Rennie Curran, LB, Georgia

No. 22: Randall Cobb, QB/WR, Kentucky

No. 23: Shay Hodge, WR, Ole Miss

No. 24: A.J. Green, WR, Georgia

No. 25: Pernell McPhee, DE, Mississippi State

No. 26: Malcolm Sheppard, DT, Arkansas

No. 27: Mark Barron, S, Alabama

No. 28: Terrence Cody, NG, Alabama

No. 29: Brandon LaFell, WR, LSU

No. 30: Julio Jones, WR, Alabama