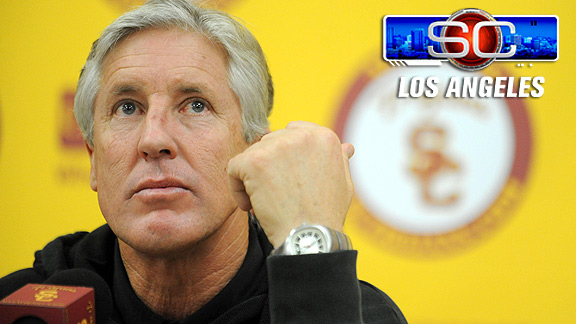 Kirby Lee/US Presswire
"I wonder if I'm the kind of coach that the Seahawks are looking for?"
Apparently there's a limit on NFL grievances filed in Seattle and Jim Mora must have exceeded it. The Seahawks fired Mora on Friday marking the first time in franchise history a coach was let go after only one season. Seattle lost four consecutive games to end the year and finished 5-11. According to Seattle sources, Mora thought he was going into CEO Tod Lieweke's office to discuss the team's vacant GM job, but instead was red-tagged and dismissed.
Prior to the 2008 season, the Seahawks rattled off four straight division titles, a feat management would like to see repeated sooner than later. A source told ESPN's John Clayton the Seahawks immediately contacted Vikes defensive coordinator Leslie Frazier about the head coaching vacancy. According to league sources, Frazier interviewed with the Seahawks in Minneapolis earlier this morning. However, his actual chances of being tapped for the opening in Seattle may be slim to none.
That's because we've been in contact with a number of fictional, unnamed sources about what Seattle management is exactly looking for in its next head coach, and the requirements sound rather specific. It seems that the ideal candidate should have:
- A B.S. in Business Administration from University of the Pacific
- NFL head coaching experience, preferably in the mid-to-late '90s and in the AFC East
- Utilized Bruce Springsteen's "Growing Up" to overcome criticism while at other coaching jobs
- Been named 2003 Home Depot National Coach of the Year
- A love of all things Grateful Dead
- Received at least two Gatorade baths for winning NCAA Football Championships
- Provided Support to the Democratic Party and Barack Obama
- Introduced the "Trojan Walk" to University of Southern California
- Been Featured in an ESPN College GameDay commercialwith Kirk Herbstreit
- Great stories about being Swim Buddies with Will Ferrell
- A name that rhymes with Meat Barrel