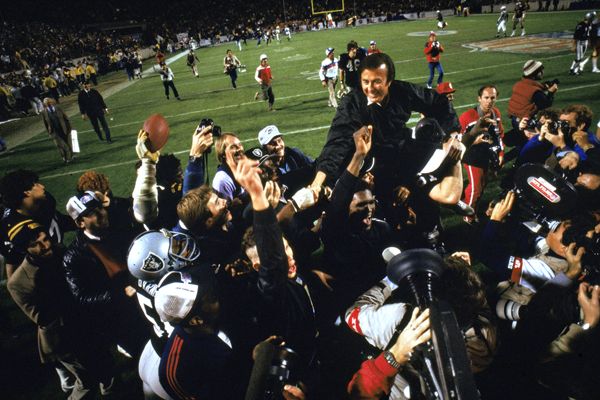 Photo: Andy Hayt/Getty Images
Was it Wayne Newton or Tom Flores who coached the Raiders to Super Bowl XVIII?
January 22, 1984 – The ground shook as Tampa Bay Stadium played host to Super Bowl XVIII between the L.A. Raiders and the Washington Redskins. Washington entered the game as favorites with the league's best record (14-2), but left humiliated when the Raiders trounced the Skins 38-9. The Raiders' 38 points and 29-point margin of victory stood as Super Bowl records until the Bears beat the Patriots 46-10 in Super Bowl XX. The Skins defeat was so embarrassing, Super Bowl XVIII became known as "Back Sunday," in reference to the Raiders team colors and the Thomas Harris novel based on a threatened terrorist attack at the Super Bowl.
The Raiders' Marcus Allen was named Super Bowl XVIII MVP rushing 20 times for 191 yards and two scores. His epic performance included a 74-yard touchdown scamper, which stood as a Super Bowl record until "Fast" Willie Parker broke a 75-yard TD run versus the Seahawks in Super Bowl XL.
The Redskins may have left the field with their heads down, but deep inside we know Washington's squad was smiling. They can say they were in attendance when Barry Manilow sang the national anthem for Super Bowl XVIII.