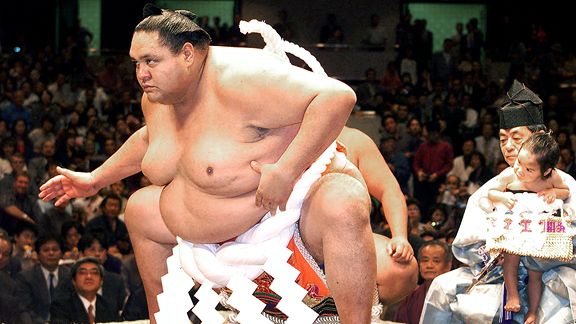 Yoshikazu Tsuno/AFP/Getty Imagse
Akebono not going to fight that baby, is he? Is he?!?
January 27, 1993 — American Chad Rowan made history by earning the rank of yokozuna, the highest rank in sumo wrestling. How so? The 6-foot-8, 500-pound Rowan, who now goes by Akebono Taro (his Japanese name), became the first foreign born wrestler to ever earn the title in 1,500 years of sumo and only the 64th person to earn the title in the history of the sport.
The foreigner didn't disappoint as yokozuna, holding the rank for eight years (that's a long time). During that time he won eight tournament championships, bringing his career total to 11. Rowan was born in Hawaii and attended Hawaii Pacific on a basketball scholarship (for real). He became a Japanese citizen in 1996 and taught sumo after his retirement in 2001.