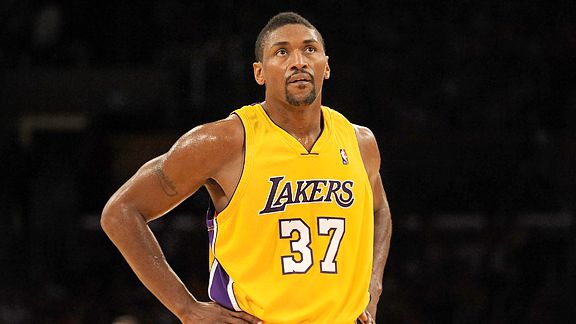 Photo: Harry How/Getty Images
"If I ditch the trip I could catch up on my DVR."
Defensive specialist Ron Artest played hooky Monday afternoon as the NBA Champion Los Angeles Lakers journeyed to the White House to meet with President Obama. Coincidentally, Artest is the only player on this year's Lakers team that doesn't possess a ring from last year's championship squad. According to the L.A. Times, Artest has been telling teammates leading up to the event that he was worried he would feel like a third wheel. But wasn't he just the least bit curious to try Presidential Chef Cristeta Comerford's cooking?
Phil Jackson and other sources attributed Artest's absence from the Lakers field trip to symptoms of a rare case of 150-minute intestinal flu. "Ron feels fine," said Phil Jackson Tuesday. "Two-and-a-half hour flu is what it was." It was probably the kind of flu that makes people put a thermometer on a lightbulb and make mommy think they have a fever of 116 degrees.
Of course, there are always three sides to every sports story … or four, or five. While both Artest's and Jackson's reasons seem plausible, we wonder if they both aren't hiding something. Isn't it just as likely that ...
- Artest had promised President Obama he'd shave the White House into his head, but when his personal barber missed the flight to D.C. Artest was too embarrassed to show up empty headed.
- He was in the record studio remastering his Michael Jackson Tribute song for "Ron Artest's Greatest Hits."
- The elevator shut down during Artest's visit to the Washington Monument and he was forced to climb down 897 stairs. You'd have missed your plans too if you had to walk descend 555 feet with plantar fasciitis.
- Artest's clothes never made the trip and unlike Jimmy Kimmel Live, the White House has a "no shirt, no shoes, no service" policy.
- He had a meeting with Peak about how their sneakers are ruining his career. When your coach is calling your shoes "concrete boots" you know it's time for a little sit-down.
Whatever the reason may have been, Artest maintained he wanted to accompany his teammates to the White House. "I really wanted to go, too because, man, it's Obama," he said. "My daughter loves him and she's only six years old. I just think he's a real person." As opposed to Dennis Haysbert's President Palmer, who may not have been real but was always intriguing as the Commander-in-Chief.