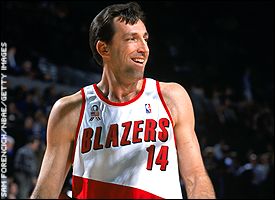 "So I wasn't good at free throws. Neither is Shaq. So really, you could describe my game as Shaq-esque."
January 29, 1989 — Cavs center Chris Dudley stepped to the free throw line and did something no one in the NBA had ever done. And that wasn't a good thing. Dudley, a celebrated defender, rebounder and shot-blocker, was a somewhat below-average free throw shooter. OK, he was a somewhat awful free throw shooter, with a career average of 45.8 percent, which is better than Ben Wallace but worse than Shaq. But in a January game against the Washington Bullets, he took poor free throw shooting to a new level.
Dudley got fouled, stepped to the line and missed both shots. NBD. But the ref called a lane violation on a Bullets guard, so Dudley shot a third. Which he missed. Another lane violation (this one by Bullets center Dave Feitl) brought another attempt and another miss (that's four for those counting at home). Amazingly, Feitl was called for another lane violation. And amazingly, Dudley missed his fifth and final (of the series) free throw attempt, becoming the first player to miss five free throws in one trip.
Dudley, who went on to play for the Nets, Trail Blazers, Knicks and Suns, mentored Minnesota forward Kevin Love at Love's high school, Lake Oswego. Here's hoping he didn't pass any of his free throw juju forward.