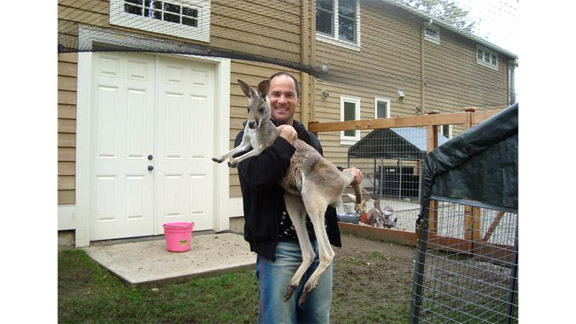 Photo by Stacey Pressman
Omar wanted the number 11 because the only thing better is a pet kangaroo.
Sometimes you can't keep a good number down. When twenty-year veteran shortstop Omar Vizquel signed with the White Sox he planned on sporting 13 on his jersey, only to be thwarted by Ozzie Guillen and baseball's "stick your manager in a uniform" rule. So he requested and received the number 11, which Chicago retired in honor of Hall of Famer Luis Aparicio. Insert Godfather III quote at your own leisure.
Now before we start breaking out the pitchforks, both Vizquel and Aparicio have talked the number un-retirement through and show nothing but love for each other:
"For me, it's like a huge celebration, trying to keep [Aparicio's] name alive and trying to spread the word of Venezuelan shortstops," Vizquel said. "I think every kid now -- the new generation of shortstops in Venezuela -- has to know about Luis Aparicio and everything that he means to us in this game."
"If there is one player who I would like to see wear my uniform number with the White Sox, it is Omar Vizquel," Aparicio added in a statement. "I have known Omar for a long time. Along with being an outstanding player, he is a good and decent man." And here we thought they were going to arm-wrestle for it.
Still, this incident raises questions about the future of number retirement. Vizquel, Aparicio and the White Sox may be copacetic in this latest incident, but what if a team like the Yankees starts to run out of numbers? At the rate they're going (along with Duke men's hoops), will teams have to take numbers back by coercion or (gulp) force?
Let's say franchises do go into the business of repossessing numbers. Obviously, they're not going to start with deceased players, especially in baseball's case and the league-wide Jackie Robinson "42" retirement. That reminds us, you wouldn't happen to be retiring any time soon, Mariano Rivera? No rush, but you're holding up the show. We can only imagine what the "collection agency" phone call would be like:
Yankees GM: Don Mattingly?
Don Mattingly: Speak up, son. It's the future and I don't hear so well.
Yankees GM: This is the Yankees. We're bringing in late season call-ups and need a few more numbers, so we'll be reactivating yours.
DM: That's preposterous. I had a ceremony. There's a 4D holographic display in Monument Park right under that giant 23.
Yankees GM: Do us a solid and we'll be your best friend.
DM: No way. I had more than 2,100 hits, a .307 lifetime average and a hilarious "Simpsons" guest spot back in the day.
Yankees GM: Listen, don't make this so difficult. How about we throw in a season calendar magnet?
DM: Sorry, not interested.
Yankees GM: Alright. How about Pop Rocks and Diet Soda?
DM: Are you trying to blow me off or something?
Yankees GM: Sorry, Don, you're breaking up.
DM: I said, "Are you trying ..."
Yankees GM: Bye Don!
Either that, or they'll have to switch to triple digits. Will that extra digit cause jersey makers to jack up their prices ever-skyward? Will Alex Rodriguez III get to wear 003 by the time he gets called up to the Majors? Stick to your guns, sports teams, and let sleeping numbers lie.