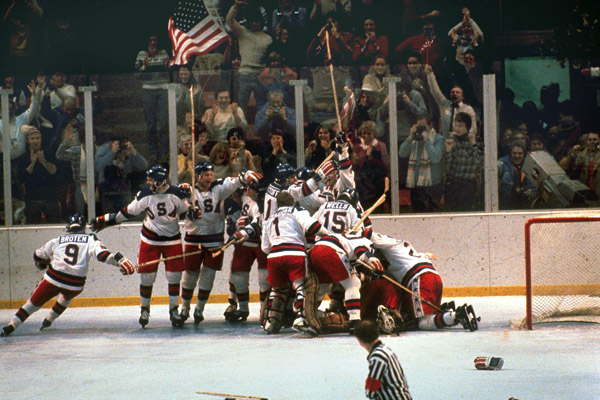 AP Photo
There was another Miracle on Ice in Lake Placid years before the Americans upset the Russians.
February 15, 1932: At the Winter Olympics in Lake Placid, New York, American Eddie Eagan became the first (and only) person to ever win gold medals in two different sports at both the Summer and Winter Olympics. While Swedish figure skater Gillis Grafstrom won gold in skating events in different seasons, Eagan's path to Olympic glory had many more twists and turns.
Eagan was born in 1898 in Denver, Colorado and soon developed into a talented amateur boxer. He attended the University of Denver before enlisting in the U.S. Army and serving as an artillery lieutenant in France during World War I. After the war, Eagan returned to his studies (this time at Yale University) and became captain of the boxing team.
While at school, Eagan was selected for the U.S. Olympic Boxing Team and competed in the 1920 Summer Olympics in Antwerp, Belgium, where he won gold in the light heavyweight division. Eagan apparently didn't suffer too many strikes to the head because he returned to complete his degree at Yale, enrolled at Harvard Law School, and accepted a Rhodes scholarship at Oxford.
Eagan continued to box during his days at Oxford and became the first American to be crowned amateur champion of Great Britain. In fact, following his studies at Oxford, Eagan embarked on a two-year world tour to face the best amateur boxer each country had to offer - and he returned undefeated. That's a Fight Quest accomplishment that even Jimmy and Doug can respect.
Back home, Eagan began to build a promising legal career but years later, a good friend of his on the U.S. Olympic Bobsled Committee came to him with a crazy idea. That night, feeling the change would do him some good, Eagan told his wife, "Guess what. I'm on the United States bobsled team." Amazingly, Eagan had never been in a bobsled until he arrived at Lake Placid in the winter of 1932. Nonetheless, he became one-fourth of the four-man bobsled team that won the gold medal, inspiring the likes of Herschel Walker, Willie Gault and Jesse Lumsden years later.
After his second Olympic gold, Eagan served as an Assistant U.S. Attorney for Southern New York (think Rudy Giuliani), as a lieutenant colonel in the Army Air Corps in World War II (think "Viper" from Top Gun), as head of the New York State Athletic Commission (think Judge Mills Lane), as chairman of President Eisenhower's People-to-People sports committee (think Arnold Schwarzenegger), and director of the sports program for the 1964 New York World's Fair (think Don King, in a good way).
In 1967, Eagan died of a heart attack at the age of 69. Sixteen years later, he joined Jesse Owens, Wilma Rudolph, and Mark Spitz, among others, in the inaugural class of the U.S. Olympic Hall of Fame.