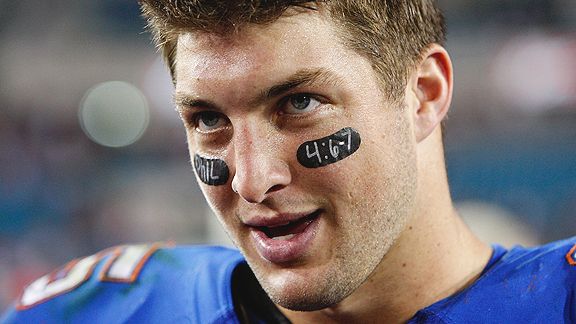 Kevin C. Cox/Getty Images
Now that Tim Tebow's college career at Florida has ended, the NCAA's Football Rules Committee is proposing a ban of all words, logos, numbers, or other symbols on players' eye black beginning next season. The rule will not become official until it is approved by the NCAA's Playing Rules Oversight Panel but is already unofficially being referred to as "The Tebow Rule."
While quarterbacking the Gators to two national championships, Tebow gained notoriety for the Bible verses that he would cite on his eye black. Tebow wasn't the first to make use of the free advertising space - Ohio State quarterback Terrelle Pryor name-checked Michael Vick and many others have given shout-outs to their home area codes - but Tebow's impact on face-messaging has unquestionably been the greatest. For instance, after Tebow scrawled "John 3:16" on his eye black for the 2009 BCS Championship Game, 94 million people Googled that exact Bible verse. Sure, it's possible that these searches resulted from millions of simultaneous discoveries of "John 3:16" on the drink cups at In-N-Out Burger. But it's far more likely that Tebow is responsible for bringing the most attention to this verse since the glory days of Stone Cold Steve Austin's "Austin 3:16" campaign.
Assuming Tebow is drafted into the NFL at the end of April, he'll no longer have the opportunity to shout-out his favorite Bible passages under his eyes - the NFL disallows messages on eye black. However, we would not be surprised to see Tebow somehow forge his own path once again with the rule makers not far behind.
On several occasions separate and apart from the eye black issue, Tebow has caused "The Man" to change the way he conducts business as usual. For instance, the "Tim Tebow Bill" in Alabama allows home-schooled students equal access to high school sponsored sports and activities. Kentucky has a similar "Tebow Bill" pending. Additionally, the NCAA went out of its way last year to allow Tebow and Florida boosters to raise money for a Tebow-affiliated orphanage in the Philippines.