Joe Schad
Yes, pitchers and catchers are in camp, the NFL draft hasn't yet arrived and the world is focused on winter Olympic figure skating and ice hockey. But it's never too early for college football.
Three powerful programs begin spring football practice this week: Miami (Tuesday), LSU (Thursday) and Texas (Friday). The 'Canes are seeking a pass rush, the Tigers are seeking offense and the 'Horns are wondering if young Garrett Gilbert can fill the void of Colt McCoy.
On Valentine's Day, Duke actually became the first program to start its 15 allowed spring practices. Ohio State, UCLA, West Virginia and USC will be among the last to begin, holding off until April.
Here is a look at the Top 10 story lines to watch this spring: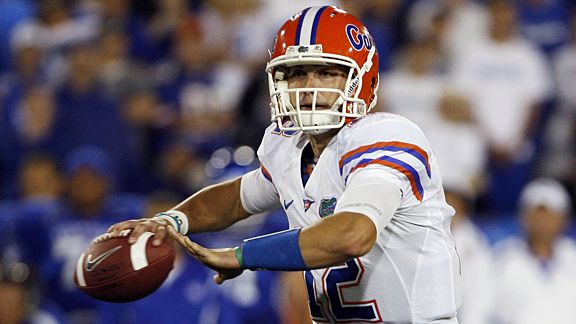 1. Florida Quarterback John Brantley: (Florida begins March 17)
Replacing Tim Tebow is no easy task. But while Brantley may lack bull-rushing ability, he possesses pure passing talent. Hard to believe Brantley is a junior already. He has skill. Spring is the time to step forward and become a team leader.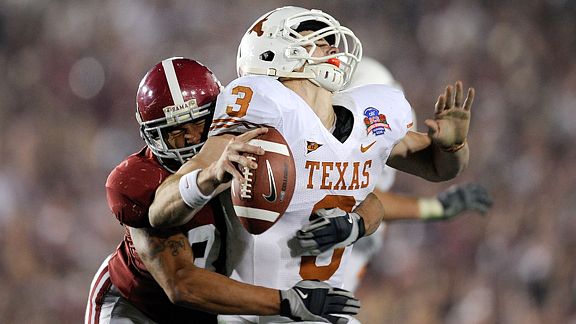 2. Texas Quarterback Garrett Gilbert: (Texas begins February 26)
No, replacing Colt McCoy is no easy task. But it's easier to replace McCoy in the spring than in the first quarterback of a national championship game. Gilbert showed poise and talent in the fourth quarter of that contest. As a sophomore, he can show off all he learned from Colt.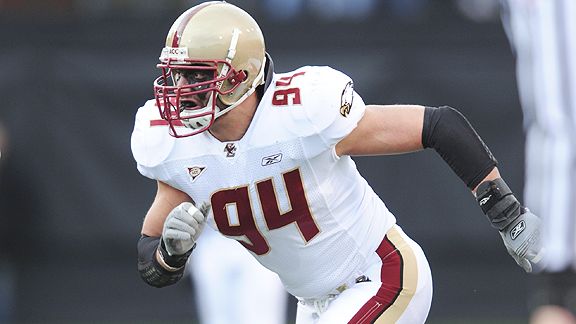 3. Boston College Linebacker Mark Herzlich: (Boston College begins March 18)
Herzlich missed last season with Ewings Sarcoma cancer. He has been conditioning and plans to participate this spring. More than an inspiration, Herzlich was the best defensive player in the ACC two years ago and wants to prove he's an NFL prospect who happens to have a titanium rod in his leg.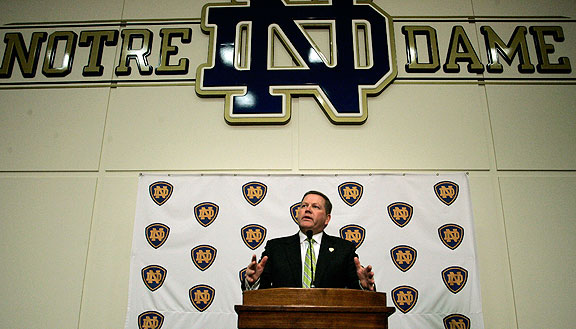 4. Notre Dame Coach Brian Kelly:(ND begins March 26)
Just how long will it take the former Cincinnati coach to get the Irish turned around? This spring will tell a lot. Already, the players have experienced intense, Kelly-issued workouts. Now they'll experience his spread offense first-hand. Kelly needs improvement on defense and for quarterback Dayne Crist to get healthy fast.
5. Georgia Quarterback Competition:(Georgia begins March 4)
Former Texas quarterback Colt McCoy once told me Georgia redshirt freshman Aaron Murray was one of the most impressive players he's ever seen. Murray and classmate Zach Mettenberger each have a shot to beat out athletic junior Logan Gray. Murray is a complete prospect. Mettenberger is a pocket-passer with a howitzer arm.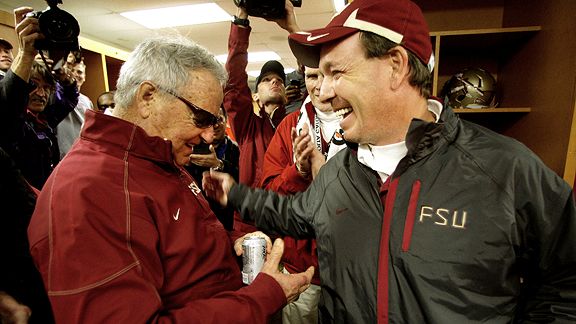 6. Florida State Coach Jimbo Fisher:(FSU begins March 16)
Jimbo Fisher has new defensive coaches. A new nutrition and workout plan for his players. And, oh, yes, a new title as head coach, succeeding Bobby Bowden. How quarterback Christian Ponder looks in his return from shoulder surgery will be key. And how the team responds to new defensive coordinator Mark Stoops will be key, too.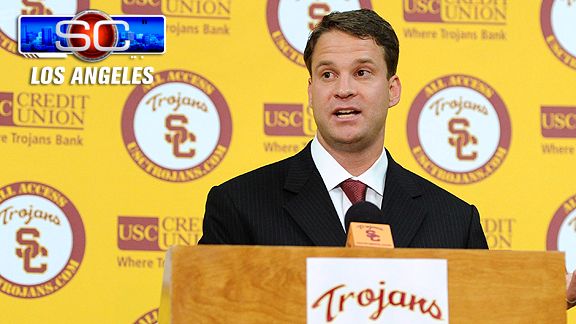 7. USC Coach Lane Kiffin:(USC begins March 30)
How USC emerges this spring from NCAA sanctions could play a big part in the future Lane Kiffin holds in his return to L.A. How will players react to Kiffin in comparison to his predecessor Pete Carroll? What kind of strides will sophomore quarterback Matt Barkley make with Kiffin as his tutor? And how well will the Trojans' depleted secondary perform?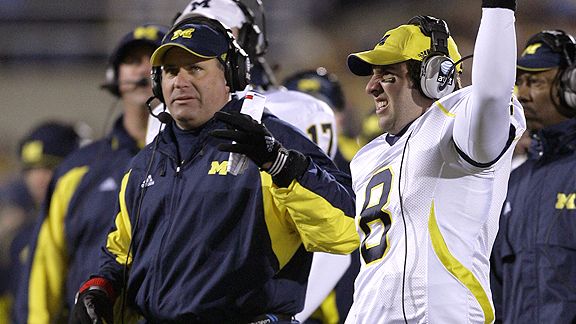 8. Michigan Coach Rich Rodriguez:(Michigan begins March 14)
Rodriguez recently proclaimed to a crowd "I am a Michigan man." He's only 8-16 in two years. In order to find success at Ann Arbor, Rodriguez needs dramatic improvement from his defense, including the speedy development of many true and redshirt freshmen. It will be interesting to see if quarterback Tate Forcier is pressed by Denard Robinson or Devin Gardner.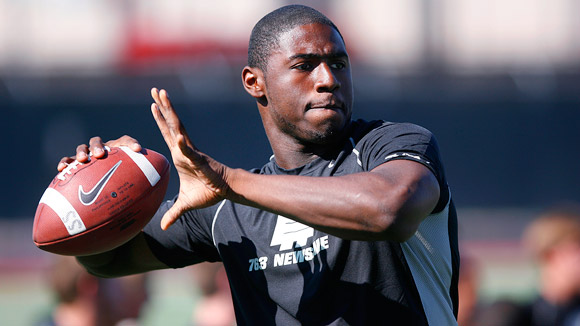 9. Penn State Quarterback Competition:(PSU begins March 26)
Departing Daryll Clark was a two-year starter and first-team All-Big Ten selection last year. Sophomore Kevin Newsome has good mobility. But he should be pressed by two Top 10 quarterbacks signed as true freshmen this year. Pocket-passing Paul Jones will participate this spring, which could give him an edge on classmate Robert Bolden, who has size, a big arm and nifty feet.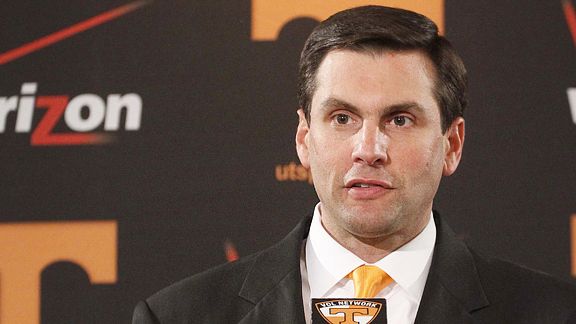 10. Tennessee Coach Derek Dooley: (Tennessee begins March 18)
He did a nice job at the press conference. And a nice job on signing day. How quickly can the former Louisiana Tech coach gain the trust and belief of his new team? Will he go with senior quarterback Nick Stephens, freshman Tyler Bray or junior college transfer Matt Simms? And will a leader emerge on defense this spring?