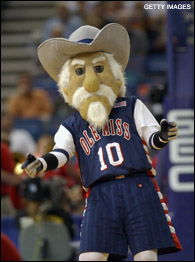 Colonel Reb is out at Ole Miss, but will an Admiral be filling his ten gallon hat?
This past Tuesday, students down at Ole Miss voted to find a new mascot to replace the abandoned Colonel Reb. And it shouldn't be too surprising to learn that the so-called Rebels of Ole Miss would use the occasion to defiantly push a subversive agenda. What caught everyone off guard, though, was the realization that the Rebel Alliance is alive and well in Oxford, Mississippi.
This is not a trap - nor is it a joke. A group of Ole Miss students have begun a campaign to have Admiral Ackbar, the classic Star Wars character, become the new mascot at the University of Mississippi. As they say, "Who wants a Colonel when you could have an Admiral?"
Ole Miss has been without a mascot ever since 2003 when the school sent Colonel Reb back to his plantation. That decision was made after coaches and athletic boosters concluded that C. Reb and other symbols of the Confederacy hurt the school's recruiting prospects. With Tuesday's vote, the students now have a say in who the next mascot will be. And, apparently, Admiral Ackbar is their man.
Soon after Ackbar's grassroots campaign began, his candidacy for the office of mascot went viral. There's now a website, a Facebook page, and a Twitter feed. Our own Page 2 has put together a list of some alternative mascot suggestions (what say to ye to the Ole Miss Delta Burkes?) while another blogger has imagined what it would be like if each SEC school was a Star Wars character (good news Mississippi State, you're the Ewoks).
There's no telling where this whole thing will go next but our fingers are crossed - hoping that we'll get to see Admiral Ackbar on the sidelines of Vaught-Hemingway Stadium this fall. Surely we're not alone - they must be going crazy right now on Ackbar's home planet of Mon Calamari.