John Buccigross
The television rating for the Canada/USA Olympic Men's Hockey Gold Medal game was 17.6 overnight rating. Here's what sportsmediawatch.blogspot wrote this morning on its website:
"To put the numbers in perspective, Sunday's game drew a higher overnight rating than every World Series game since 2004 (including every game of Yankees/Phillies last year), every NBA Finals telecast since 1998, and every NCAA Men's Basketball Final Four game since at least '98."
Wow. For our little engine that could sport of hockey.
I understand these are some of the best players of all time and it is the Olympics. People watch people ski and shoot guns during the Olympics. But, there are plenty of NHL games like yesterday in terms of excitement and quality of play. We hockey fans get it. It just makes you wonder why more people don't get the joys of watching and following hockey.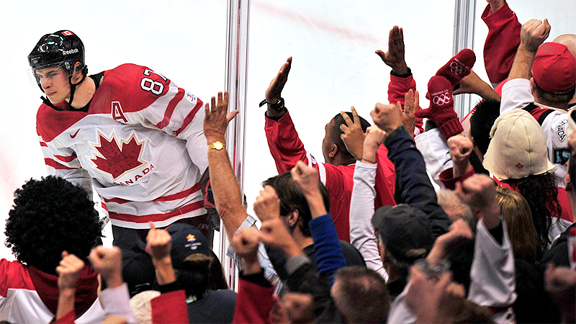 It doesn't ever matter to me or affect my passion if three people or three billion love and watch hockey. But, after seeing Canada-USA play, it just makes you wonder what people are missing or why they are giving hockey the Heisman. Is it a fear to love what is not the most popular? That fitting in is more important than true love? It's bewildering? Why wouldn't you watch NHL games now? Why won't you watch the NCAA Hockey Tournament? Why wouldn't you watch every Stanley Cup playoff game you could? Almost all of them resemble Sunday's effort. If we can market Snuggies in this country, why can't we market a fast and physical sport like hockey that has been around for 100 years?
But no worries, hockey. You have plenty of disciples to support your foundation and to spread your word as the others disperse. We get your values of teamwork, heart and perseverance. We love how it requires DNA given talent, man driven talent, AND toughness and grit. There is no caste system in hockey and nothing bequeathed. It's not who you know, what color you are, or whose butt you kiss. Everything is earned; a meritocracy of muscle and brain. The most driven and the most effective play. The next shift is earned, not sold.
When the tens of millions that watched the gold medal game on Sunday usher off to their college basketball, NFL Draft, and/or everything else they choose to decorate their life with, we will remain.
Hockey, we stand on guard for thee.