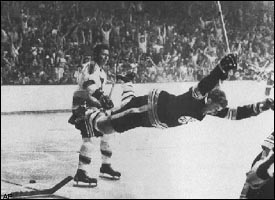 Bruce Bennett Studios/Getty Images
Bobby Orr wasn't just a defenseman who could outscore opponents; he was a defenseman who could out-celebrate them as well.
March 15, 1970: While his most famous goal would come in May of that year, on this date Boston Bruin Bobby Orr scored four goals in a game against the Detroit Red Wings, pretty remarkable for a defenseman. What was more remarkable, though, was that those four goals allowed Orr to become the first defenseman in NHL history to score 100 points in a season. Orr would go on to finish the 1969-70 season with 120 points. And he would score 100 or more points for the next five seasons (139 in 1970–71, 117 in 1971–72, 101 in 1972–73, 122 in 1973–74, and 135 in 1974–75).
Orr, who won two Stanley Cups with the Bruins and is the only defenseman to win the league scoring title, was born in Parry Sound, Ontario and was signed by the Bruins as a teenager. He made his NHL debut with the Bruins in 1966 and signed a record contract. He was a two-time finals MVP, he won eight straight Norris Trophies (the league's best defenseman) and he won the Hart Memorial Trophy (MVP) three times. In 1979, the Hockey Hall of Fame waived the mandatory waiting period and Orr was enshrined at age 31, making him the youngest player to be inducted.
Only five other five defensemen in NHL history have recorded 100-plus points in a season. Along with Orr, Paul Coffey, Denis Potvin, Al MacInnis and Brian Leetch have done it.