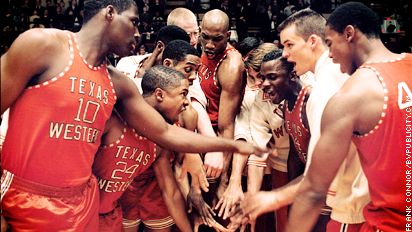 Texas Western also beat Kentucky at awesome group high fives.
March 19, 1966: Before the first play of the 1966 NCAA final game between No. 1 Kentucky (coached by the legendary Adolph Rupp) and No. 3 Texas Western (a little-known independent from El Paso, Texas now known as UTEP) history had already been made. Until this game, no major college team had started five black players. Texas Western coach Don Haskins not only started five black players, he won an NCAA title with them.
Haskins' team upset an all-white Kentucky team, 72-65, in a game that is widely credited with pushing forward the integration of college sports. Between 1966 and 1985, the average number of black players on college teams went from 2.9 to 5.7. And by 1970, even SEC strongholds like Auburn and Mississippi (SEC athletics remained segregated as late as 1966) had several black players on their teams.
Before Texas Western proved otherwise, the widely-held belief was that a team needed "the steadying hand" of at least one white player on the court so the games wouldn't "dissolve into chaos." And sportswriters covering the game, who had never seen the Miners play before, perpetuated the myths. Though the Miners actually had an organized style of play that emphasized defense and Kentucky played a run and gun game, reporters described Texas Western as the "running, gunning Texas quintet" that "don't worry much about defense but try to pour the ball through the hoop as much as possible."
Though the game made history, you'd never had known from the looks of it. March wasn't as "mad" as it is today and the game was not played until 10 p.m. (ET). In several cities, the Texas Western-Kentucky game was even shown on tape delay. For more on the game, see ESPN's Sports Classic's account.