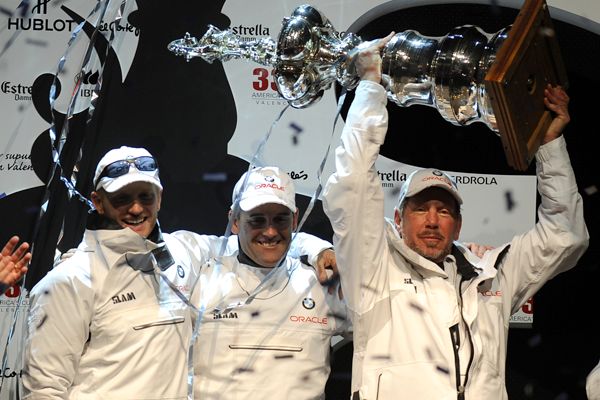 Pedro Armstre/AFP/Getty Images
Something tells us Larry Ellison really likes big trophies.
The Golden State Warriors are on sale and Larry Ellison really wants to buy them. Which is something Golden State/NBA fans in general should really want to happen, not so much because it's time for a regime change in the Bay Area but, because Larry Ellison is the craziest human this side of Mark Cuban.
Ellison is Cuban to the fifth power. Picture Robert Downey Jr. in "Iron Man" and you're coming close to an approximation of the life Ellison, who is the head of Oracle (an enterprise software company) and worth $28 billion, must lead. Except for the whole arms dealer thing. But flying jets, racing sailboats, importing rocks from Japan so his $200 million estate is authentically done in the feudal Japanese style? Yeah, Ellison does stuff like that.
Needless to say, having him at the helm of an NBA team would be a lot of fun, especially since you know he won't be one of those behind the scenes kind of owners. We only need to look as far as the 2010 America's Cup race to know that much – Ellison financed the winning boat, USA 17, but was also part of the crew. But we bet he'd be pretty successful, too. And not because he's been known to say things like, "Winning is not enough. All others must lose." Well, a little because of that, but also because all his Super Rich Guy experiences must make him well-equipped to run the Dubs into title contention.
First of all, there's his involvement with gorillas. To be more clear, Ellison sits on the board of the Dian Fossey Gorilla Fund, so he must have all kinds of insights into the mind of the Warriors' Pacific Division rivals, the Phoenix Suns. Or, at least, insight into the mind of their mascot. Then again, something tells us the habits of Phoenix Suns Gorilla (that's his official name – he's also listed as 5-foot-Ape in his official bio, so that's fun) are different than those of gorillas in the wild.
Golden State will also enjoy a facilities upgrade with Ellison footing the bills. Never again will the team lack a place to practice, seeing how Ellison owns the sixth-largest yacht in the world (well, he co-owns it with music mogul David Geffen), which has its very own basketball court. Now the Warriors will have no excuse to ever cancel a practice again. And if a player needs special work with a shooting coach in Ann Arbor? A consult from a doctor in Boston? A sports massage from a spa in Boulder? Don't worry. The hoops court doubles as a helicopter pad.
Speaking of travel, no more lame-o charter flights for the Warriors in the Ellison era. Because Ellison's a licensed pilot who owns fighter jets. FIGHTER JETS! Road game in Miami? No problem, be there in five minutes. The team can play an away game and be back at home before the fans clear the arena. More time at home, no travel delays, no bumpy flights like the one the Celtics had last week. If that doesn't translate to wins, we don't know what does.
And as for attracting free agents, please. Among the millions of other amenities at his $200 million dollar estate, Ellison has a $1 million dollar entertainment system compete with video projector most concert producers would be envious of and a giant $50,000 subwoofer fashioned – get this – from an empty swimming pool. You're telling us Ellison couldn't just host a concert in his insanely gigantic backyard with the hot musical artist de jour dropping beats that literally lift people out of their seats and the free agents wouldn't come a running? LeBron a Warrior in 2010? Maybe. Just maybe.