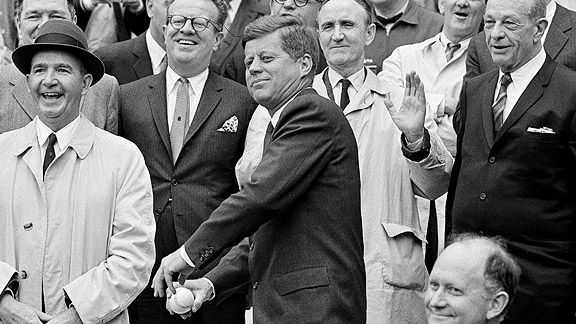 AP Photo
"Ask not what your defense can do for you - ask what you should throw to your catcher."
President Obama's mound appearance before Monday's Nationals/Phillies game will mark the 100th anniversary of Commanders-in-Chief ushering in a new baseball season with a ceremonial first pitch. We would've celebrated this benchmark earlier if our 24th, 25th and 26th Presidents had an affinity for the sport. When asked if he wanted to watch the day's action, Grover Cleveland replied: "What do you imagine the American people would think of me if I wasted my time going to the ball game?" William McKinley didn't show up for an Opening Day invitation despite a specially-constructed Presidential Box. Theodore Roosevelt never used a special gold season pass issued by the National Association of Professional Baseball Leagues. Teddy may have spoken softly and carried a big stick, but evidently, he didn't like to watch fellow sportsmen use other big sticks to hit balls.
In 1910 Washington Senators owner Clark Griffith convinced William Howard Taft to throw the first pitch before the April 14th season opener. The President had recently been booed while delivering a speech in front of a hostile Suffragist crowd. Now the 300-lb. right-hander was going to be the first POTUS to try to put one over the plate without embarrassing himself. Thankfully, future Hall of Fame pitcher Walter Johnson caught the ball without incident, sending the crowd into huzzahs. Johnson would go on to pitch a one-hitter. From that day forward, every sitting president except for Jimmy Carter (who would perform the honors two years after his term ended) would take at least one crack at The First Pitch.
Here are some other stand-out moments in presidential pitch-throwing history:
April14,1931: Herbert Hoover manages to compose himself enough to throw strikes despite boos from the crowd, no thanks to The Great Depression and Prohibition-fueled grumbling. The gallery actually chanted "We want beer!"
April 16, 1940 Franklin Roosevelt really gave 'em the old pepper when his errant pitch smashed the camera of Washington Post photographer Irving Schlossenberg.
April 18, 1950: Harry Truman becomes the only president to flex the ambidexterity, throwing both righty and southpaw on two Opening Day pitches. We wonder if there was a special six-fingered Presidential Glove.
April 10, 1961: John F. Kennedy impresses Al Lopez with his heat at the Orioles' opener. "The President is better than sneaky fast," said the White Sox manager. "He can really fire that thing."
April 4, 1974: While technically not a sitting president yet, Gerald Ford tosses the game's ceremonial first pitch, then witnesses Hank Aaron's 715th home run, tying Babe Ruth.
September 30, 1988: Ronald Reagan throws out the first pitch before the Cubs hosted the Pirates, then joined Harry Caray for an inning and a half to welcome the broadcaster back to the booth.
April 6, 1992: Despite his experience on the Yale hardball team, 41st President George H. W. Bush tossed his second ball into the dirt in as many years before the opener at Camden Yards. Catcher Chris Hoiles told a reporter: "That was the worst toss I've ever seen in my life."
October 30, 2001: George W. Bush repairs the family's baseball reputation by throwing a perfect strike to open Game 3 of the World Series at Yankee Stadium.
Monday's game between the Nationals and Phillies is set to begin at 1:05 ET.