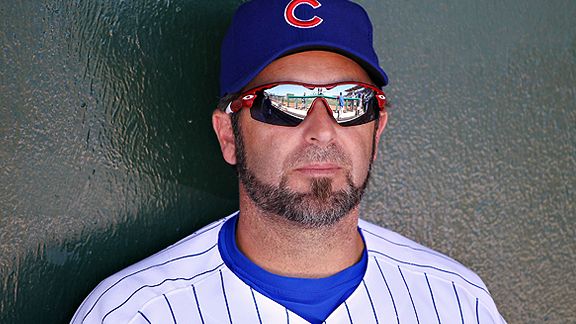 Christian Petersen/Getty Images
Kevin Millar Cowboy's Up with a slick pair of shades and perfectly-groomed goatee.
The Friendly Confines were not so kind to Kevin Millar on Tuesday. The Cubs cut the 38-year-old as Chicago finalized their 25-man roster earlier this week. This was the first time Millar was released by a club during his MLB career and said finding out was "the toughest day I've had in this game." Could his release have been avoided by impressing management with his "Born in the U.S.A." rendition? We'll never know.
Though only a member of the Cubs since February 1, Millar left a lasting impression on many of Chicago's players. First baseman Derek Lee called Millar, "one of the funniest guys I've ever met,'' while pitcher Tom Gorzelanny said, ''He brought a lot of laughter to the clubhouse, but he was also serious ... . He's a gamer. And I think he also brought the fact that we're here to have fun." Millar has already stated he'd like to continue playing baseball and, with such a winning personality, you'd have to think some club will take a shot on the 12-year vet.
Just look at the effect his leadership skills had on the Red Sox. Without Millar, Boston may never have reversed the curse back in 2004. Down 3-0 to the Yankees in the 2004 ALCS, Millar warned New York and the sports world, "Don't let us win tonight. This is a big game. They've got to win because if we win, we've got Pedro coming back in Game 5 and Schilling in 6, and then you can take that fraud stuff and put it to bed. Don't let the Sox win this game." As you know, the Sox went on to win four straight. It was also Millar who coined the phrase "Cowboy Up" in 2003 and referred to the club as "idiots" to keep his teammates loose during the Red Sox 2004 World Series run.
Orioles pitching coach Leo Mazzone could also vouch for Millar's infectious behavior. During his two-year stint with the Orioles, Millar convinced then 58-year-old Mazzone to get a tattoo. "I'm going to break him in a little bit, and we're going to bring The Edge to this club -- that edge this team needs," said Millar. Because of Millar, Mazzone now possesses a tattoo commemorating the 14-consecutive division titles he won as a member of the Braves coaching staff.
Worst case scenario, if nobody signs Millar to a contract and his heart is still set on Chicago, he could always try out for the Cubs again under one of his aliases. Because Millar doesn't belong to the MLBPA, his name or likeness may not be published in officially licensed video games. Instead, Millar's character is issued a different name by video game publishers. As long as he switches his appearance, Millar can show up at Wrigley Field as "Kane Matthews" from MLB Dugout Heroes or "Kyle Morgan" from Major League Baseball 2K9, or even "Great Johnson" from MLB Power Pros 2008. And we ask you: what team wouldn't want Great Johnson playing first base in 2010?