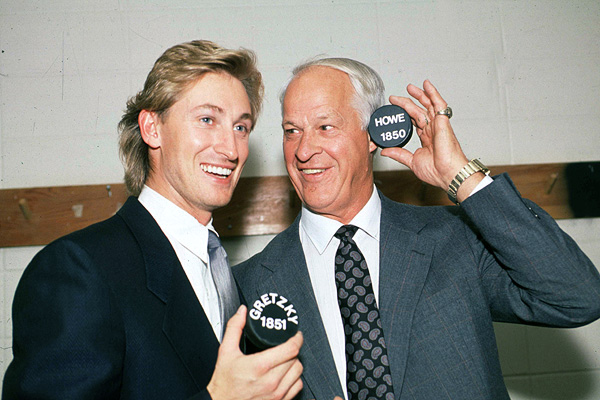 Bruce Bennett Studios/Getty Images
"Smile now, Wayne. You're not going to like it when you see what Cameron Frye is wearing."
April 6, 1980: At the tender age of 52 years young, Gordie Howe skates his last regular-season shift in the NHL.
Playing for the Hartford Whalers, Mr. Hockey closed out his 32nd season the only way he knew how: with a goal and an assist. Howe and the Whalers beat the Detroit Red Wings that night by a score of 5-3. Staying competitive until the end, Howe showed no mercy for the Red Wings - the same team that employed his services for 25 seasons.
After leading the Red Wings at various times through four decades of hockey (1940s, 1950s, 1960s, 1970s), Howe moved on to the World Hockey Association for six seasons. Howe's time in the WHA was split between Houston and New England before he returned to the NHL for one farewell season. In the end, Howe's two points in his final game gave him NHL career totals of 801 goals and 1,850 points.
Although Wayne Gretzky would later surpass Howe's NHL point record in 1989, Mr. Hockey remains on top in at least one important category: number of jerseys worn by a lead character in 1986's "Ferris Bueller's Day Off." Howe 1, Gretzky 0.