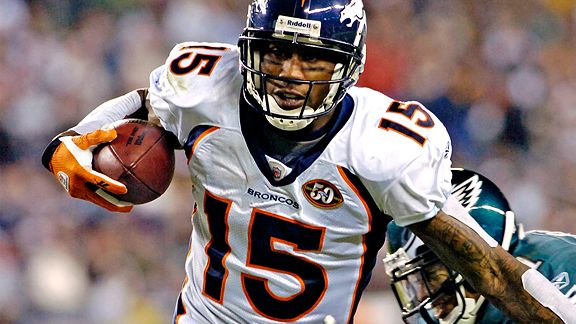 Miami is reeling in a Pro-Bowl wide receiver while Denver is reeling in even more premium picks.
For the second straight year, the Broncos will pull off a blockbuster deal, this time trading wide receiver Brandon Marshall to Miami for a second-round pick next Friday and what is thought to be an additional second-round pick in 2011, according to league sources.
The trade is contingent upon the league processing the paper work and Marshall passing his physical, neither of which is expected to be an issue Wednesday. Marshall is scheduled to fly to Miami to take his physical and, if he passes, sign what will be one of the most lucrative wide receiver deals in NFL history. It is the type of contract that an unhappy Marshall had been seeking in recent years. Miami will provide it, making Marshall very happy.
But the Broncos also will be happy to get two high picks for someone who made plays and caused headaches in almost equal numbers. Once the trade becomes official, it will alter the looks of the AFC East, the AFC West and the draft for the next two years. Just over one week before the draft, Miami will match and even top the wide receiver that the New York Jets landed at the start of this week, when they traded for talented but troubled Steelers wide-out Santonio Holmes.
Marshall is one of the game's best young wide receivers, a mercurial talent at the position Miami needed help at most. He is in the prime of his career. But like Holmes, he also brings a reputation of being difficult to handle and a legal record that has him one strike from a year-long suspension.
Once Marshall signed his $2.5 million tender with the Broncos Tuesday, it freed Denver to begin shopping him. Miami was hot after Marshall, as was Seattle. Tampa Bay showed some interest and even the Jets considered making a play for Marshall before their deal for Holmes.
What the Broncos will receive in return is something of a windfall in these NFL times. This off-season, Holmes went to the Jets for a fifth-round pick, wide receiver Anquan Boldin went to the Ravens for essentially for a third-round pick, and quarterback Donovan McNabb went to the Redskins for a second- and conditional fourth-round pick. Denver got fair, and possibly better than, market value.
Now, in just over one year, Denver has recouped an impressive two first-round picks, two second-round picks, a third-round pick and quarterback Kyle Orton in exchange for Jay Cutler and Marshall. They are two big deals for what were two of Denver's best players.
But Denver now heads into next Thursday's draft armed with three picks in the top two rounds - but with another hole to fill at wide receiver. Still, it has the ammunition it needs to continue to remake and improve its roster.