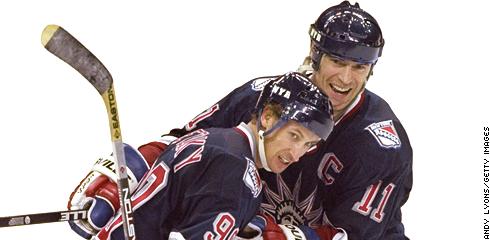 April 18, 1999: Wayne Gretzky skated his last professional game at Madison Square Garden. His New York Rangers fell to the Pittsburgh Penguins in an unspectacular 2-1 overtime loss, and Gretzky's biggest highlights occurred off the ice.
Warm-ups began with chants of "Gretzky, Gretzky" for three straight minutes. During the Star Spangled Banner and the O Canada anthems, singers John Amirante and Bryan Adams changed part of the lyrics to "in the land of Wayne Gretzky" and "We're going to miss you Gretzky" (respectively), while Gordie Howe and Michael Jordan appeared in video tributes.
After the final buzzer, "The Great One" skated four laps around the rink, saying goodbye to the sport he dominated for so many years while the fans cheered. He finished his career with 60 NHL records, including all-time scorer (2,857), most MVP awards (nine Hart Trophies) and most hat tricks (10) in the playoffs.
Gretzky's NHL career began with the Edmonton Oilers. He was named MVP and was the youngest player to score 50 points in his first season. He led the Oilers to four Stanley Cup championships before being traded to the Los Angeles Kings. Gretzky had a short stint in St. Louis before ending his career as a New York Ranger.