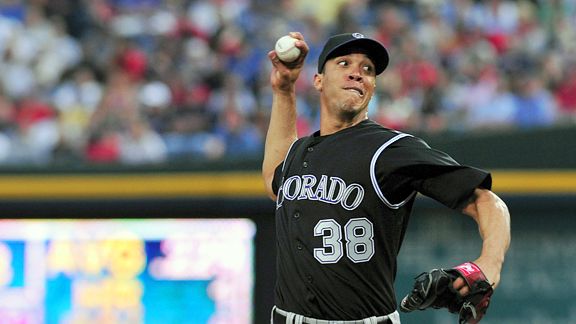 AP Photo/Gregory Smith
Ubaldo Jiminez has to wonder what he needs to do to get some Dante Bichette-level attention in Colorado.
When Roy Halladay was traded to the Phils this offseason it was assumed he'd be the likely candidate to foil Tim Lincecum's plans to three-peat as the NL Cy Young -- Ubaldo Jimenez was merely an afterthought. Even fantasy gurus overlooked Jimenez's talent. Compared to Lincecum and Halladay, the consensus top two choices on draft day, the Rockies hurler was the 21st pitcher selected based on ESPN's live draft results. For those of you keeping score, that's two spots behind Brandon Webb who's yet to pitch a game this season. But this shouldn't come as a surprise to Jimenez; even his teammates ignored him. In 2008 Ubaldo, and his triple-digit heater, was one of the last players selected in the Colorado Rockies dodgeball game. Now, six starts into the 2010 season, Jimenez is the current front-runner to dethrone Lincecum as this year's NL Cy Young.
The 26-year-old fireballer has a 6-0 record, an MLB leading 0.87 ERA. And let's not forget about the season's only no-hitter. Following his no-no, Jimenez threw another 16 1/3 scoreless innings. That's the longest scoreless streak following a no-hitter since Cy Young (22 innings) in 1904. But for all these impressive stats, there's still a shortage of Jimenez love.
Whereas the Giants and Phillies have already planned bobblehead days for Lincecum (July 17th) and Halladay (May 18th), the Rockies have yet to devote a day to their ace. Instead, Colorado opted to give away a Dante Bichette Collectible Lapel Pin on April 26th. This sought after item was such a hit, the opening bid on eBay started at $.01. We're not saying the Rocks have to give away a bobblehead for Jimenez, a series of Where's Waldo Ubaldo books would suffice. Kids would eat that up.
Maybe a nickname would score Jimenez some extra buzz. After Lincecum shed his high school nickname of Seabiscuit for The Freak, the ads came rolling in. The cover of MLB 2K9, Snuggies, Sports Illustrated ... everyone wanted a piece of Tiny Tim. From here on out, please refer to Jimenez as the Naguarian Nightmare. It's not that random, he was born in Nagua, Dominican Republic.
With all that being said, it should be noted that the Mets were in fact the first organization to show their love for Jimenez. Upon turning 16, the Mets attempted to lure Jimenez away from high school to play in New York for $20,000. His parents quickly nixed the idea, forcing young Ubaldo to finish high school. Understanding the value of good education, the Rockies offered him $50,000 and the leeway to finish school. The rest is history.