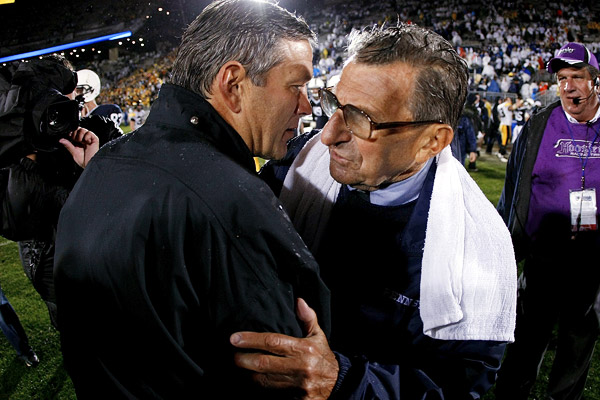 AP Photo/Joe Raymond
"Have you heard about this Fat Darrell sandwich, Joe?" "Heard about it? That's the main reason we recruit in South Jersey."
If you believe the world wide interweb, the Big Ten – that offseason headline stealer – appears to be expanding, even though Big Ten commish Jim Delany has denied it. But all the chatter from people not named "Jim Delaney" would point to some sort of growth. As for which teams the hungry conference will extend invites to, that's all still very much up in the air. Yesterday, there were rumors that a shortlist of Missouri, Nebraska, Notre Dame and Rutgers had emerged.
As for the veracity of those rumors, we've heard this song and dance from the Big Ten before. So in the event Delany pulls a Brett Favre and does indeed change his mind and decide to extend those four schools initial offers, we thought we'd go ahead and break down what each has to offer up to the conference. Who knows, maybe our list will influence the decision of the Big Ten Big Whigs (probably not)?
Missouri
The Tigers bring with them the distinction of having made six bowl appearances in the last seven seasons (they lost to Navy, 35-13, in the Texas Bowl last season but beat Northwestern in the Alamo Bowl in 2008). But that's not all they bring. What else? Well, textbooks for one. As in textbooks from MBS Textbook Exchange – the industry leader in wholesale textbook distribution!! – which, like Mizzou, calls Columbia, Mo. home. You're telling us the rest of the Big Ten wouldn't love some free textbooks? We went to college. We know how much those things cost. (In an unrelated matter, anyone looking to buy a copy of "World Geography 101"? No? OK.)
If the bookstore's not the Big Ten's thing, perhaps Steelers legend Jack Lambert is. He was Mizzou head coach Gary Pinkel's college roommate at Kent State. Will Lambert attend every Big Ten game Mizzou plays and give the opposing team autographs and advice on how to win four Super Bowls and be great middle linebackers? No one can prove he won't.
Nebraska
The Cornhuskers have won their last two bowl games (they beat Arizona in the Holiday Bowl last year), but that's not the only reason the Big Ten might want to add Nebraska to its circle of friends. There are about 47 billion other ones, as in the $47 billion American investor/philanthropist and Nebraska alum, Warren Buffett, is worth. It certainly couldn't hurt the Big Ten's coffers to have the alma matter of one of the world's richest men in it's conference, right?
We can understand if the Big Ten doesn't want to be seen as greedy. But no one's ever been called greedy for enjoying Kool-Aid. And you can bet Nebraska will have plenty of Kool-Aid to share with its fellow Big Ten members, seeing as Kool-Aid is the official soft drink of the state of Nebraska (it was invented in Hastings). And you know nothing makes Jim Tressel happier than a big red Kool-Aid 'stache.
Notre Dame
Notre Dame obviously brings a wheelbarrow of riches with it. Not only does the team have a hot new coach in Brian Kelly, and 13 national championships – the most of any college football school – it has a deal with NBC for television coverage through the 2015 season (seven televised home games and an eighth at a neutral site ain't bad).
Could NBC take the coverage away if Notre Dame moves to the Big Ten? Who knows? But one thing the network can't take away is Notre Dame's claim to "Rudy," the most inspiring college football movie starring Sean Astin ever to be made. Is it true that Notre Dame has an unlimited supply of "Rudy" DVDs, enough to share with all the members of its new football conference? We'd like to think so.
Rutgers
In addition to bringing the New York media market along with it, Rutgers would bring serious momentum, having recorded five straight winning seasons after 12 straight non-winning seasons before that.
But what's better than five straight winning seasons? A Fat Darrell. And just what is a Fat Darrell? Why, it's a sandwich made of chicken fingers, mozzarella sticks, French fries and marinara sauce. And it can be ordered at Grease Trucks, a collection of food vendors on Rutgers' campus.
Maxim once called the FD the best sandwich in the nation, and it was invented right at Rutgers University, by Darrell Butler. Darrell is a personal trainer, which is ironic when you consider the name and calorie count of his sandwich. We don't know how Darrell can look his clients in the face, but we do know that every football player in the Big Ten would circle his road games to New Brunswick, NJ, with a big dollop of marinara sauce if Rutgers joined the group.