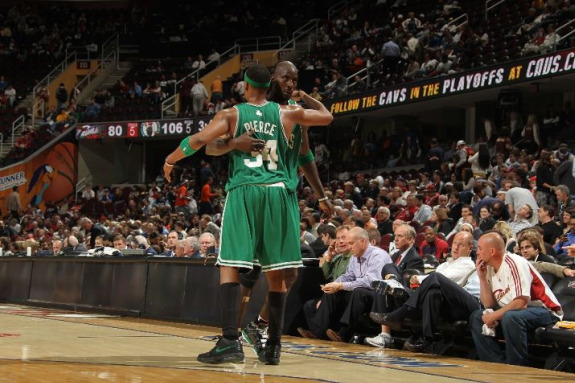 Nathaniel S. Butler/NBAE via Getty Images
Celtics Crush the Cavaliers, 120-88
The Boston Celtics used a balanced attack to push LeBron James and the Cavs to the brink of elimination. Six different Celtics scored in double figures, led by Ray Allen's 25. Paul Pierce bounced back from a terrible Game 4 with 21 points, 11 rebounds, and 7 assists. James looked uncomfortable all night, and finished with only 15 points on 3 of 14 shooting. Game 6 is Thursday in Boston at 8pm ET on ESPN.
2010 USA World Cup Preliminary Roster
The U.S. released a preliminary roster of 30 players for the upcoming 2010 FIFA World Cup. Notables on the roster include forwards Jozy Altidore and Landon Donovan. Charlie Davies, who suffered serious injuries in a car crash in October, was left off the roster.
Hank Haney Resigns as Tiger's Coach
Just days after Tiger Woods said he and swing coach Hank Haney would continue to work together, Haney has resigned as Woods' coach, according to a statement Haney made to the Golf Channel Monday night. "I have informed Tiger Woods this evening that I will no longer be his coach," Haney said in his statement. "I would like to thank Tiger for the opportunity that I have had to work with him over the past six-plus years."
After the jump: Mayweather/Mosley Draws Big Numbers, Steelers Sweed to IR, Ronaldo/Ronaldinho Out for Brazil, Westbrook Visits Redskins, and the 2010 Divisional Football Hall of Fame Class
Mayweather vs. Mosley Draws Big Numbers
It wasn't the Floyd Mayweather fight boxing fans were dying to see, but it was still a hit nonetheless. Mayweather vs. Shane Mosley totaled 1.4 million pay-per-view orders which translates to $78.3 million. Those numbers were good enough to rank the fight in the top 10 of pay-per-view bouts of all time. Mayweather dominated the fight, easily earning his 41st consecutive victory.
Steelers WR Limas Sweed was placed on injured reserve Tuesday after clearing NFL waivers. Sweed tore his Achilles Tendon during the last day of the team's mini camp on May 2nd. He will not count against the Steelers roster since he did clear waivers, but will miss the entire season. Sweed was going to be one of the primary replacements for Santonio Holmes, who was traded to the Jets for a 5th-round pick.
Ronaldinho, Ronaldo Left Off Brazil's World Cup Roster
Some of the most famous Brazilian soccer players of all time will not be a part of its 2010 World Cup team. Ronaldo, the 3-time FIFA player of the year, Ronaldinho, a 2-time player of the year, and Roberto Carlos, the long time left-defender, were all left off the 30-man roster Tuesday. Brazil's Coach Dunga defended his choices saying, "These players are winners. There is no doubt that they are prepared to help Brazil reach its goal. They are ready to give their best for the country."
ESPN Senior NFL analyst Chris Mortensen is reporting that former Eagles running back Brian Westbrook has been invited to visit the Redskins on Wednesday. This comes after new Skins QB Donovan McNabb pushed coaches to give Westbrook a chance. RBs Clinton Portis, Larry Johnson and Willie Parker are already on the team's roster.
2010 Divisional College Football Hall of Fame
Archie Manning, chairman of The National Football Foundation & College Hall of Fame, announced the 2010 Divisional Hall of Fame Class. The hall consists of players and coaches from the NCAA Football Championship Subdivision (formerly I-AA), Divisions II, III, and the NAIA (National Association of Intercollegiate Athletics). The class includes: Emerson Boozer (Maryland Eastern Shore, HB 1962-65), Troy Brown (Marshall, WR 1991-92), Brian Kelley (California Lutheran, LB 1969- 72), Milt Morin (Massachusetts, TE 1963- 65). Two coaches were also selected, Willie Jeffries 179-132-6 (.574) and Ted Kessinger 219-57-1 (.792).