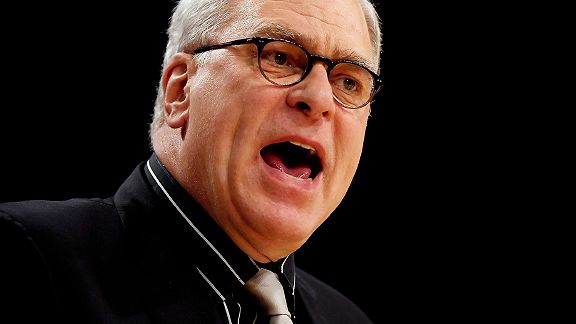 Jeff Gross/Getty Images
Who's Phil Jackson yelling at now? It's anyone's guess.
Phil Jackson has never been one to mince words, so his latest comments – that Steve Nash carries the ball when he dribbles – should come as no surprise. Jackson spoke about Nash Friday, responding to a question about whether it would be difficult for the Lakers to prepare for Nash during practice as they prepare for Game 1 of the Western Conference Finals Monday. "Yeah, because you can't carry the ball like he does in practice," Jackson said. "You can't pick that ball up and run with it."
Is this just Jackson calling it like he sees it? Or a bit more gamesmanship from the Zen Master? Remember, he also had words for Kevin Durant during the Lakers round one series against the Thunder last month. Whatever the case, we thought a review of Jackson's greatest controversy-stirring statements was well in order. So, we present the All-I Was Ripped By Phil Jackson team. At least they're all in good company.
C – Shaquille O'Neal, Cleveland (Miami during the incident)
P.J. and the Big Aristotle may have won three titles together, but that didn't stop Phil from laying into him once he departed Hollywood for the Sunshine State. After a 101-85 loss to the Heat in '06, Jackson called out Shaq claiming he's "the only person I've ever had that hasn't been a worker. ... All the other players -- Michael [Jordan], Scottie [Pippen], Dennis Rodman, all those guys that we had, Horace Grant, they're all hard-working practice and personal work players." Strange how this was never a topic of discussion during Shaq's championship days in L.A.
F – Ron Artest, Forward, Los Angeles
After missing multiple games earlier in the year due to plantar fasciitis, Jackson went off on Artest's shoes. "I called his shoes concrete boots for about the last month. ... Those shoes look like they're made for the Hudson River," said Jackson. Compared to the rest of the All-Insult team, Artest got off easy. But remember, there's still a month left of playoff basketball.
F – Kevin Durant, Oklahoma City
Durant earned the Zen Master's wrath by racking up free throws. Phil said Durant gets preferential treatment from the refs. More specifically, he said, "Yeah, by the calls he gets, he really gets to the line a lot, I'll tell ya." Jackson was fined $35,000 for the comments. But he seemed to get the last laugh, the Lakers beat the Thunder in the first round of the playoffs.
G – Kobe Bryant, Los Angeles
Jackson clashed frequently with Bryant. While remarkably efficient in Jackson's "triangle offense," Bryant had a personal distaste for Jackson's brand of basketball and subsequently called it "boring." In games, Bryant would often disregard the set offense completely to experiment with his own one-on-one moves, incensing the normally calm Jackson. Bryant managed to test Jackson's patience enough that the "Zen Master" even demanded that Bryant be traded, although Lakers management rejected the request. Stay tuned to see what Phil has to say about Kobe if Jackson leaves Los Angeles when his contract ends after the season.
G – Steve Nash, Phoenix
Nash landed on Phil's hot seat by taking creative liberties with his dribbling. Phil said Nash carried the ball when he dribbled. More specifically, "he pick(s) up the ball and run(s) with it" No word yet on a fine, or how it will influence the Western Conference Finals; LA and Phoenix play Game 1 Monday.