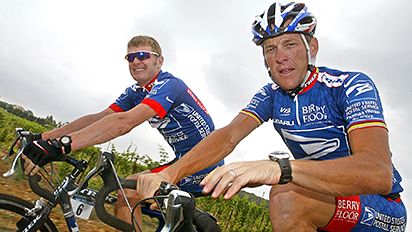 LANDIS: "I WANT TO CLEAR MY CONSCIENCE"
In a lengthy phone interview last night with ESPN.com's Bonnie Ford, cyclist Floyd Landis admitted to using performance-enhancing drugs for most of his career, including in 2006 when he tested positive and was stripped of his Tour de France victory and handed a two-year ban from the sport. "I want to clear my conscience,'' he said. "I don't want to be part of the problem any more.'' Landis also confirmed that he sent emails to cycling and anti-doping officials over the past few weeks, implicating dozens of other athletes, including Lance Armstrong, team management and owners, as well as officials of the sport's national and international governing bodies. ESPN is seeking further evidence and comment from those individuals. Meanwhile, the head of cycling's world governing body questions Landis' credibility, telling The Associated Press that Landis is "seeking revenge" and holds a "grudge" against Lance Armstrong and others.
More of what's happening At This Hour, including how a couple of Hall of Famers helped clear the air between Hanley Ramirez and Fredi Gonzalez, and why Bill Romanowski thinks Dr. Galea is a pioneer, after the jump.
The Buffalo News reports that Redskins receiver Santana Moss has been linked to Dr. Anthony Galea, who faces drug-related criminal charges in both the United States and Canada. The US Attorney in Buffalo says that prosecutors don't intend to pursue charges against Moss or any other athlete. They are considered witnesses at this point.
DAWSON, PEREZ STAGE INTERVENTION
About an hour before Tuesday's game against the Diamondbacks, Hall of Famers Andre Dawson and Tony Perez took Marlins shortstop Hanley Ramirez behind closed doors to help facilitate an end to his feud with manager Fredi Gonzalez. "I'm not going to say a lot, because if you say the wrong the thing to me, then you might wind up on the floor on your rear end,' Dawson said he told Ramirez. "You really have stepped across the line. You owe that manager a sincere apology. And if you think your teammates have your back with this, you've got another thing coming because the mind-set, and this is from me to you, the mind-set is these guys are laughing at you." Ramirez later cleared the air with Gonzalez, and returned went 3-for-5 with an RBI last night in Florida's 5-1 win at St. Louis.