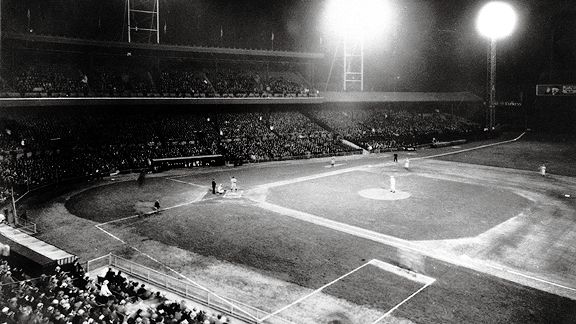 AP Photo
Luckily, first baseman Billy Sullivan's mother hadn't called him in yet.
May 24, 1935: The Philadelphia Phillies, Cincinnati Reds, and the crowd of 20,422 fans sat patiently in the darkness of Crosley Field. It was MLB's first night game, and both teams and fans waited while president Franklin Deleanor Roosevelt presided over the ballgame some 400 miles away at his desk in the White House. With a flick of the wrist, FDR switched a gold telegraph key signaling his man in Cincinnati to turn on the lights. And with that small gesture, 632 Mazda lamplights opened up the grassy field to play ball for the first time at night.
The decision to play night baseball was met with spirited criticism. "People there are educated to see the best there is and will stand for only the best. High-class baseball cannot be played at night under artificial light," said Washington Senators owner Clark Griffith.
But three electrical engineers tasked to illuminate the park, made certain the light would be twice as bright as any other stadium that era. With the help of General Electric, and the Cincinnati Gas & Electric Company, the team designed a lighting system based on hundreds of calculations ranging from spotlights, to floodlights, to the number of towers and their placement. That night, the pop fly balls were like "pearls on dark velvet" remarked one writer. Ultimately, the experiment was a success as the Reds remaining night games more than quadrupled the attendance average of their day games.