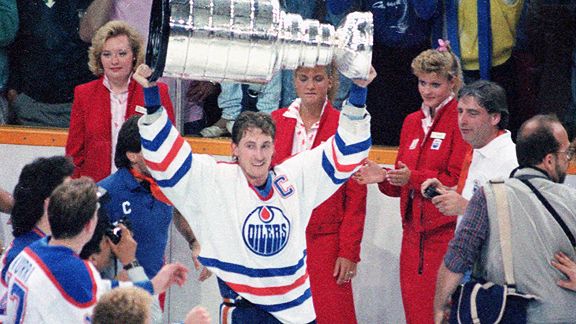 Bruce Bennett Studios/Getty Images
The Oilers were gracious enough to let Wayne savor the Stanley Cup for a spell before letting him know about the trade talks.
May 26, 1988: The Edmonton Oilers had entered the 1987-88 season as defending Stanley Cup champions, their third title in four years. While they had failed to win their division, score 100 points, or lead the league in goals, playoff time saw their offense rejuvenated in dominating fashion. Edmonton had felled Winnipeg, Calgary and Detroit in quick succession, losing only two games en route to the finals on the strength of Mark Messier, Jari Kurri, Esa Tikkanen and of course, Wayne Gretzky. Now they had the Boston Bruins on the ropes in Game 5, up three games to none.
Three-nil, you say? The Oilers may have sealed the deal two days earlier if not for a Boston Garden blackout in Game 4, which shut down the match during a 3-3 tie. Perhaps killing the lights was the only factor that could slow down The Great One. His goal and two assists paced Edmonton to the 6-3 win, netting the Oilers their fourth title. Gretzky won his second Conn Smythe Trophy (playoff MVP), having set postseason records in assists (31) and finals points (13) in one of hockey history's most efficient displays of offensive prowess. He would also usher in a new tradition by herding the team together on center ice for a group Stanley Cup photo op.
Unfortunately for Wayne and Oilers fans, the good times were short-lived. Two hours after hoisting the cup, Gretzky learned that the team was planning what would become known as "The Trade." Edmonton would always wonder how long their dynasty would have lasted.