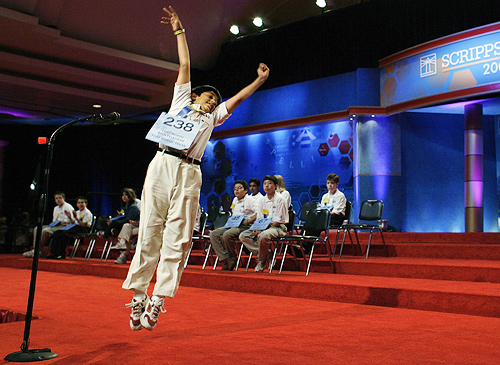 Chip Somodevilla/Getty Images
Samir "The Dan Marino of Spelling" Patel managed to integrate spelling with his love of ballet.
Today is the championship round of the 83rd Scripps National Spelling Bee, America's greatest assembly of tween enthusiasm outside of a Robert Pattison autograph session. Unlike the Intel International Science and Engineering Fair, this competition of academic acumen gets the prime time broadcast treatment (8 ET on ABC). While the winner receives $30,000 cash, a trophy and other scholarship perks, aren't the real prizes the memories? Here are a few highlights from Spelling Bees of years gone by:
1925 - The Louisvile Courier-Journal sponsors the first National Spelling Bee. It began as a contest to find the best grade school spellers in the state of Kentucky. There were nine contestants, which sounds precious in today's terms. The Kentucky bee proved so popular it spread as a challenge to champions in other states, culminating in a Washington, D.C. throw-down to determine the national title.
1941 - The Scripps Howard News Service becomes the sponsor of the Bee, changing the name to the Scripps Howard National Spelling Bee (later simply "Scripps National Spelling Bee"). No other individual championship is as associated with its corporate sponsor, save for the Nathan's International July Fourth Hot Dog Eating Contest.
1946 -The championships were first broadcast live on NBC. Unfortunately for Dick Ebersol, the slow but steady Rise of the Nerds would not capture the public's imagination for at least three more decades.
1974 and 1977: The national finals were broadcast on PBS a taped prime time special, probably pre-empting yet another pledge drive.
1994 -ESPN broadcasts its first National Bee finals, laying the foundation for the public's growing thirst for sports it doesn't know it will soon learn to love, like Texas Hold 'Em.
1997 - Rebecca Sealfon becomes the champion of home-schooled kids everywhere, pioneering a unique "say a letter and cup your hands" technique that has yet to be equaled in the annals of the competition. Her triumphant delivery of "Euonym" is closest thing spelling has to Muhammad Ali's "I Am the Greatest" speech after taking down Sonny Liston.
2002 - The documentary "Spellbound" debuts to high critical acclaim (including an Oscar nomination), shifting Bee mania into overdrive ... among the Scrabble-playing set, at least.
2004 - Akshay Buddiga gives his own version of a soccer dive by fainting for real under the lights, only to recover in time to nail his word.
2005 - Hilarity ensues when precocious Katie Seymour asks the proctor for the spelling of "incunabula." Also, this year marked the debut of the Tony Award-winning musical "The 25th Annual Putnam County Spelling Bee," harnessing the synergy of Scrabble fans with musical theater geekery.
2006 - Dominic Ranz Ebarle Errazo confuses officials, but elicits chuckles from Jared Hess fans everywhere with his impersonation of Napoleon Dynamite.
June 2, 2006 - 13-year-old Katherine Close of Spring Lake, N.J. becomes the winner of the first finals to be broadcast live in prime time.
2008 -Sameer Mishrah brings down the house, confusing "numnah" (a felt or sheepskin pad) with a favorite playground insult.
June 3, 2010 - Protesters boycott the Bee outside the Grand Hyatt hotel. Representatives from the American Literacy Council and the London-based Spelling Society rally to get their message out: simplify spelling. Their slogan (for real): "Enuf is enuf. Enough is too much." Way to empower Internet grammar everywhere, American Literacy Council.
June 4, 2010 - Flush with success from his NBA on ESPN RV word game dominance, Shaquille O'Neal challenged last year's winner, 14-year-old Kavya Shivashankar to a spelling duel. Kavya's giving Shaq a two-word handicap. All he has to do is fare better than Jimmy Kimmel did against her.