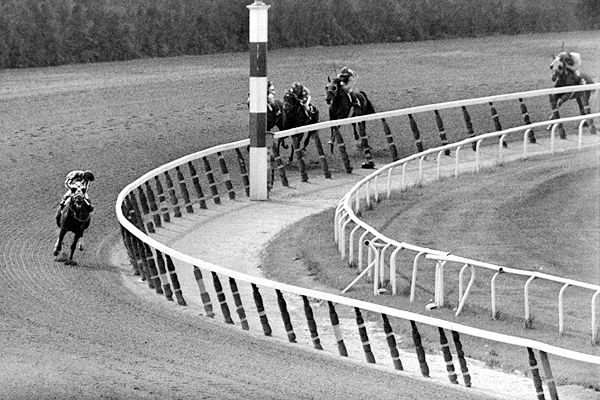 AP Photo/Dave Pickoff
Jockey Ron Turcotte looks back into the distance.
June 9, 1973: On this day 37 years ago, Secretariat achieved the Triple Crown, surprising almost no one. Having already won the Kentucky Derby and Preakness Stakes by two-and-a-half lengths each, Secretariat was the odds on favorite to win the Belmont, paying out $2.20 on a $2 bet.
In both the Derby and the Preakness, Secretariat had started out of the gate last, only to dramatically increase speed around every turn, setting a new record at the Derby, which still stands. However, at the Belmont, jockey Ron Turcotte rode Secretariat to an early lead with Sham, who quickly faded to last place. The Triple Crown was never in doubt, only how fast Secretariat could fly around the track. The answer, a track record of 2:24, and a world record for fastest time over 1 1/2 miles on dirt. That record remains unbroken.
Secretariat was the first Triple Crown in a quarter-century. The last Triple Crown winner, Affirmed, won in 1978.