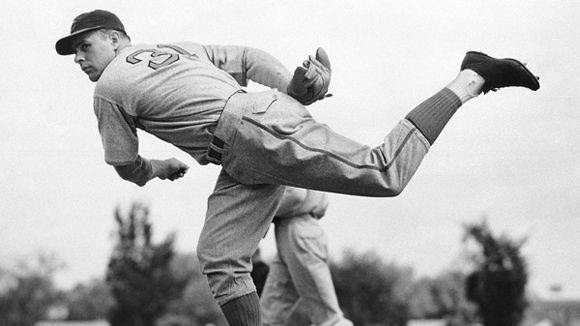 Johnny Vander Meer set the bar for rookies everywhere by throwing consecutive no-hitters to start his career.
June 15, 1938: It took a lot to overshadow the first Major League night game ever played in New York, but Johnny Vander Meer, a 23-year-old lefty pitcher for the Cincinnati Reds, did it by throwing his second straight no-hitter. Vander Meer, who had no-hit the Boston Bees on June 11, 1938, became the first - and only - pitcher to throw consecutive no-hitters with a 6-0 win over the Dodgers.
Four days earlier, back in Cincinnati, Vander Meer no-hit the Boston Bees, walking three and striking out four in a 3-0 win. Later in Brooklyn, Vander Meer survived a somewhat shakier outing (he walked eight and even walked the bases loaded in the ninth before getting Leo Durocher to pop out) but still managed to strike out seven and earn the double no-hitter.
After the game, Reds management approached Vander Meer and asked him to change his uniform number to 00 to honor his back to back no-nos, but Vander Meer (who, after the season, told the AP, "all the publicity, the attention, the interviews, the photographs, were too much for me,") politely declined.
Vander Meer, who recorded 21 2/3 scoreless innings and had a nine-game wining streak, would go on to throw a three-hitter in his next start and finish the season 15-10. He pitched in the All-Star Game and earned a victory and was named Major League Player of the Year by The Sporting News. Vander Meer, who finished his career with Cleveland in 1951, had a career record of 119-121 and a 3.44 ERA.