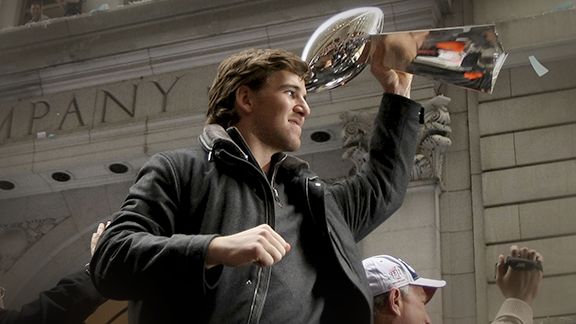 Chris McGrath/Getty Images
Eli decided to turn to animation after his audition reel for the upcoming "Thor" movie didn't pan out.
Nickelodeon and the NFL are pairing up to produce "Rush Zone: Guardians of the Core," a series of 22 animated episodes, each 2 to 5 minutes in length. The cartoons will air weekly during the NFL season and feature the voices of such personnel as Eli Manning and Saints coach Sean Payton, who'll play ... themselves. The producers have not announced what the "Core" is, though we suspect it'll have something to do with the abs, hips, and lower back.
As for the plot, the show follows a 10-year-old boy who must protect valuable supernatural objects hidden in the league's stadiums using superpowers that include the skills of an NFL player. Of course it's a fantasy series; any real 10-year-old kid with NFL skills would have committed to USC by now. Still, we have a feeling this may be the greatest athlete-inspired cartoon since Michael Jordan, Wayne Gretzky and Bo Jackson committed their likenesses to Pro Stars, only with real voices. It can't be any worse than Hulk Hogan's Rock 'n' Wrestling, right?
Back to the episodes, we've managed to get a sneak preview of some the plot lines and guest appearances:
"The Mystery of Revis Island Featuring David Tyree's Helmet" - Eli Manning can't seem to locate his Super Bowl receiver, or more importantly, the super-sticky head protector lost in the confines of the new Meadowlands Stadium.
"The Legend of Sourdough Sam's Stash" - Vernon Davis helps the gang find the prospector's gold that's been eluding the 49ers' mascot since the mid-19th century.
"Quest for the Dire Dropcloth" - Troy Polamalu hunts Heinz Field for the one truth fabric from which all Terrible Towels are born.
"The Gloves of Marcus Allen" Sebastian Janikowski and Al Davis' brain search Oakland-Alameda County Coliseum for anything to turn Darrius Heyward-Bey into a number-one receiver.
"Who Dat Running?" - Sean Payton discovers a featured 'back in the Superdome. Finally. Fantasy owners rejoice.
Just think, if this cartoon series really gets off the ground, maybe they'll make a live-action movie out of it.