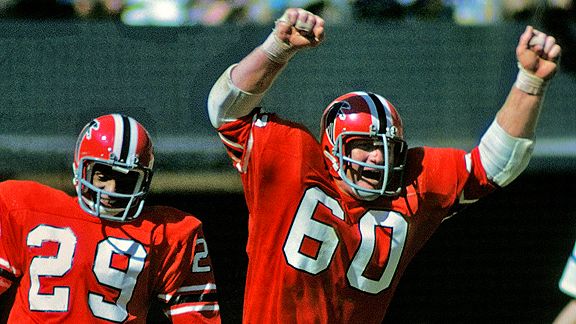 AP Photo/John Amis
Tommy Nobis, No. 60, was the first player ever selected by the Atlanta Falcons.
June 30, 1965 - By the power vested in him by the NFL, Commissioner Pete Rozelle gladly pronounced the Atlanta Falcons an official NFL franchise. However, snatching up Atlanta was no easy task, as Rozelle had to battle the AFL for the control of the team.
With Atlanta-Fulton County Stadium completed in the Spring of 1965 for $18 million (yes, we've come a long way in arena costs), Atlanta was ready to play ball. On June 7, 1965, a group of local businessmen worked out a deal with the NFL's competitor and were awarded an AFL franchise, which was contingent upon acquiring exclusive stadium rights from city officials. After hearing the news, Commissioner Rozelle hopped on the next plane to Atlanta to protect the NFL's prospective expansion team. Once in Atlanta, Rozelle gave the city an ultimatum: AFL or NFL? The choice to join the NFL was made on June 30 and Rozelle granted ownership of the Falcons to insurance executive Rankin Smith.
Come November 27, 1965, the Falcons chose Texas linebacker Tommy Nobis with the first overall pick in the 1966 NFL Draft. Since joining the league in 1966, Atlanta has made the playoffs nine times and reached the Super Bowl once (1998). However, the Falcons have yet to bring home a championship to the city of Atlanta. No pressure, Matt Ryan.