2010 has been circled on GM's calendars around the NBA for several years now as this is perhaps the best group of free agents in NBA history. Many players are expected to sign max deals including LeBron James, Chris Bosh and Dwyane Wade. The 2010-11 salary cap is projected to be at $56.1M, which would be down from $57.7M last season and would be the league's lowest since it was $55.63M in 2007-08. ESPN salary cap expert Tom Penn discusses Paul Pierce, Dirk Nowitzki and how the Heat can get the trio of LeBron James, Chris Bosh and Dwyane Wade.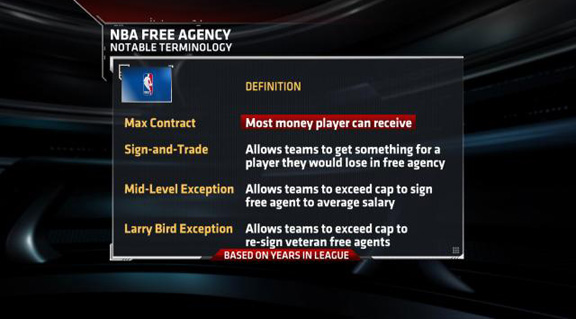 HOW FREE AGENCY WORKS: There are two types of free agents (restricted and unrestricted) and three types of options. The free agency period begins on July 1 at 12:01 AM ET. An Unrestricted player is free to sign with any team and a restricted player is subject to his current team's Right of First Refusal, meaning that the player can be signed to an offer sheet by another team, but his current club reserves the right to match the offer and keep the player.
This will be followed by a signing moratorium between July 1-7 in which players can negotiate but not sign. It is during this time period that the NBA and NBPA conducts an audit that assists in the determination of the new salary cap figure for the following season which will be in effect on the date following the day the moratorium is lifted. Players can begin signing on July 8.
MONEY MATTERS: As of today, here are the teams with the most projected salary cap space for next season. Right now, the Heat and Knicks are the only 2 teams in position to sign 2 max players, with the Bulls close to that number.
NBA OFF-SEASON CALENDAR:
July 1-7 - July Moratorium
This is the moratorium period in which teams may hold negotiations but cannot sign contracts. Limited exceptions to this rule apply to Rookie Scale contracts with first round draft picks, minimum contracts of one or two seasons (with draft picks and free agents) and Restricted Free Agents.
July 9-18 - NBA Summer League
Twenty-two NBA teams, including 11 that appeared in the 2010 NBA Playoffs, will compete in this year's NBA Summer League. For the second consecutive year, a team of NBA Development League Select players will also participate in the action taking place at the Thomas & Mack Center and the COX Pavilion on the campus of the University of Nevada Las Vegas.
NOTABLE POTENTIAL UNRESTRICTED FREE AGENTS:
LeBron James Cavaliers*
Dwyane Wade Heat*
Chris Bosh Raptors*
Amar'e Stoudemire Suns*
Joe Johnson Hawks
Carlos Boozer Jazz
David Lee Knicks
Ray Allen Celtics
Paul Pierce Celtics*
Dirk Nowitzki Mavericks*
Shaquille O'Neal Cavaliers
Zydrunas Ilgauskas Cavaliers
John Salmons Bucks*
Tracy McGrady Knicks
*early termination or player option
NOTABLE RESTRICTED FREE AGENTS:
Rudy Gay Grizzlies
Luis Scola Rockets
Jordan Farmar Lakers
Randy Foye Wizards
J.J. Redick Magic
Tyrus Thomas Bobcats